NEWNow you can listen to Fox News articles!
Forms Wimbledon finalist Andrea Jaeger claims she was sexually harassed on "at least 30 separate occasions" by a Women's Tennis Association (WTA) employee in the dressing room during the 1980s during her career. Jaeger also claims that another WTA employee unknowingly gave her alcoholic drinks when she was only 16 years old and that the same employee tried to kiss her after giving her a ride to her apartment.
Jaeger made the allegations in an interview"Independent"and claims that when she approached 'one of the authorities in the WTA', she was threatened and told not to 'say another word' about the incident.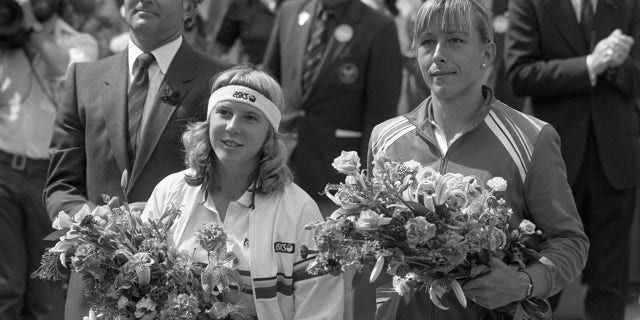 Fox News has reached out to the WTA for comment.
Jaeger turned professional at just 14 years old and during her career she reached five Grand Slam semi-finals and the Wimbledon final. She retired in 1985 due to a shoulder injury.
RUSSIAN TENNIS PLAYER AVOIDS RUSSIA'S BANK BY CHANGE CITIZENSHIP
In an interview with The Independent, Jaeger claims that one female WTA employee made at least 30 "physically inappropriate advances" with her early in her career, causing Jaeger to stop using the room if no other players were present.
"I changed into portable toilets or into a toilet cubicle because I didn't want to deal with people's comments, interests or actions," she says. "One day someone recognized me at the US Open and asked me what I was doing, so I just said that a pipe had broken in the locker room. There has always been a concern that I might have to deal with an adult who has speech problems or is physically out of place with me."
US OPEN ALLOWS RUSSIAN TENNIS PLAYERS TO COMPETE UNDER A NEUTRAL FLAG
Jaeger told the publication that she considered telling her father Roland about the harassment, but decided not to do so out of fear of his reaction.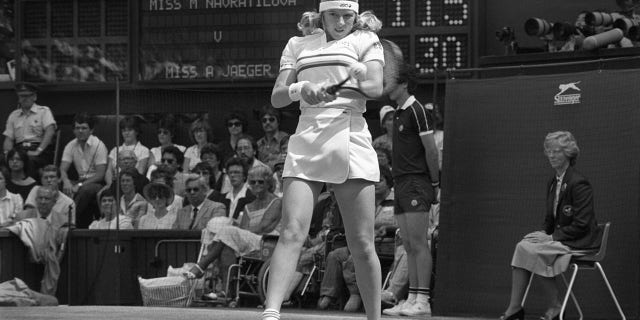 In 1982, when Jaeger was 16, Jaeger claims that WTA employees provided her with alcoholic beverages without her knowledge at a party after a WTA championship in Florida.
CLICK HERE FOR MORE SPORTS ADS ON FOXNEWS.COM
"She came back with two glasses," she says. "I thought I had very strange taste."
After three shots, Jaeger approached the bartender and was told that a WTA officer had ordered rum drinks for Jaeger.
Jaeger says a WTA employee drove her home and tried to kiss her in front of Jaeger's apartment.
"I went with her and her girlfriend in the car," she says. "The man was swinging behind the wheel, and I remember we hit some rubbish or a mailbox. When we got to my apartment, she walked me to the door and tried something on me. She tried to kiss me. I crawled up the stairs inside, trying not to vomit so my dad wouldn't see me."
Naomi Osaka withdraws from Wimbledon due to Achilles tendon injury
Jaeger then told someone at the WTA about the incident and was threatened if she continued talking about it.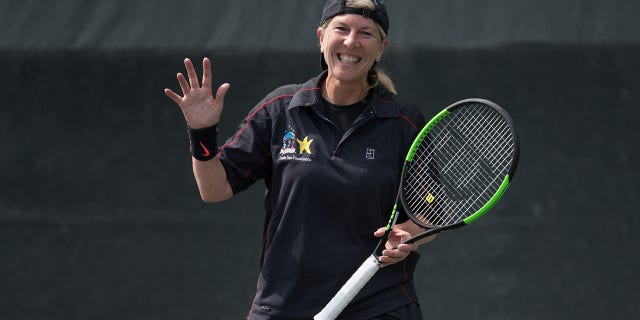 "I said this has to stop. I have to worry about this shit every week," she says. "They said if you say one more word about it, we will make sure your sister's scholarship at Stanford is revoked. Every time I tried to stand up for myself, I was threatened that someone else would get hurt.
CLICK HERE TO GET THE FOX NEWS APP
"Do you know how hard it is to tell an adult in the industry that there is a problem, how much courage it took to do so? My parents had the right, if you put the child on the court late at night or are going to have a representative of the WTA Tour take them home, they will be safe. They had that right, but they never got it."
After retiring from tennis, Jaeger founded the Little Star Foundation, which cares for children with cancer and children in need.