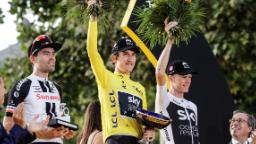 July 1-24, 2022 – The 109th Tour de France is scheduled.
June 26-July 18, 2021 – The 108th Tour de France took place. Tadej Pogacar wins his second consecutive Tour de France title.
The Tour de France is a prestigious multi-stage cycling race that takes place every year in France, and sometimes in neighboring countries.
Four cyclists have won the Tour five times:
Jacques Anquetil of France (1957 and 1961–1964)
Eddy Merckx from Belgium (1969–1972 and 1974)
Bernard Hinault of France (1978–1979, 1981–1982 and 1985)
Miguel Indurain of Spain (1991–1995), first competitor to win five consecutive races
France has won more times than any other country (36).
The winner of the race is the person with the lowest total time.
Bonuses of ten, six and four seconds are awarded to the top three riders at the end of the road stages, excluding individual and team time trials.
There are two rest days.
Knitwear
GREEN – "green jersey" – worn by the points leader. Points are awarded for intermediate and final sprints on level ground.
WHITE – "maillot blanc" – worn by the Tour's top rider aged 25 and under.
Schedule
1903 – Henri Desgrange, reporter and cyclist, creates the Tour de France.
1903 – Maurice Garin of France is the first cyclist to win the race.
1910- For the first time the race passes through the Pyrenees.
1989- Greg Lemond defeats Laurent Fignon by eight seconds, the smallest win margin in race history.
1999-2005 – Armstrong wins seven times in a row.
September 20, 2007 – Landis, winner of the 2006 Tour de France, was stripped of his title when an arbitration panel ruled in favor of the United States Anti-Doping Agency (USADA). Landis, the first Tour de France winner to be stripped of his title, initially maintained his innocence but later admitted to doping and accused others, including Armstrong, of doing the same.
October 22, 2012 – The International Cycling Union announces that Armstrong will be stripped of his Tour de France titles and banned from professional cycling for life.
October 26, 2012 – The UCI announces that no one will be declared the winner of the Tour de France from 1999 to 2005 after Armstrong was stripped of his titles.