Some time ago we tried out a new idea in a special issue Freakonomics Radio – game show we named Tell me something that I don't know. You can remember it. It was so much fun that we decided to launch a new podcast series. It's been in the works for a while and it's finally here! BUT episode preview from the first season TMSIDK is now available.
Please take a moment to sign and if you like the sound of the preview episode, PLEASE leave a rating and/or review on iTunes – it's really important to launch a new show.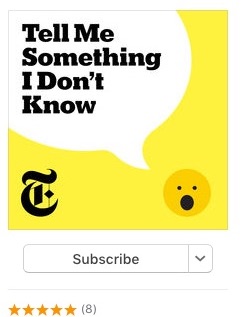 Like everything we do in Freakonomics, TMSIDK still journalism, still factual but disguised as the most effervescent conversation you can handle. In each episode, the audience takes the stage and tells us something exciting (or amazing, or just plain weird) while a panel of three experts try to figure out what's worth knowing and what's not.
The panellists are drawn from an eclectic group of wise men, such as the president of Barnard College. Deborah Spar; President of the New York Public Library Tony Marks; former White House economist Ostan Goolsby; Jesuit writer and thinker James Martin; bioethicist Zeke Emanuel; former White House chef Sam Kass; Microsoft Explorer Dana Boyd; cardiac surgeon and telephysician Dr. Oz; poker champion Annie Duke; linguist John McWhorter; in Sand author Angela Duckworth; and guru of happiness Gretchen Rubin.
We also have many comedians and comedians, including Keisha Zollar, Chris Gethard, Frank Delany, Andy Saltzmanas well as Hannibal Buress. And sometimes a world-traveling adventurer, like the author Simon Winchester.
All this is organized Stephen J. Dubnerwho is accompanied every night by a real-time fact-checker to ensure everyone (mostly) stays honest.
Please subscribe todayso you don't miss a single episode. The first one will be released on November 7th. The first season will be six episodes and the second season is already being recorded in New York (December and January), so come on in! be a member or Get tickets to see the show. You can also follow TMSIDK on the Twitter, facebook as well as Instagram.