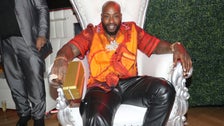 The reality TV star has been fired by VH1 after a video of him beating a dog with a folding chair went viral.
The network uploaded Caesar Emanuel, featured in Black Ink Crew New York, after a frightening clip, reportedly filmed on a doorbell camera, showed him repeatedly kicking and hitting a dog.
VH1 announced Thursday he "made the decision to cut ties with Caeser Emanuel" and stated that his departure would not affect the forthcoming season of the tattoo parlor show.
Walter Mosley, Emanuel's lawyer, told people that the video going around in circles was an old clip and that it showed the reality TV star preventing dogs from "attacking other animals".
Mosley described his client as a dog lover and owner of "many" pets.
"From what I understand, it was a frustrating situation where several other aggressive dogs attacked smaller dogs, and it was probably a mistake in how to properly break that interaction," Mosley told People.