NEWNow you can listen to Fox News articles!
The last command entered NCAA baseball tournament the last team left.
Mississippi scored twice in the wilds in a three-run eighth inning, and the Rebels won their first baseball national title by beating Oklahoma in the final of the College World Series in a 4-2 victory on Sunday.
The Rebels (42-23) are the eighth national champion since 2009 to leave the Southeastern Conference and third in a row, and the trophy will remain in Magnolia State for another year. Mississippi won last year.
CLICK HERE FOR MORE SPORTS ADS ON FOXNEWS.COM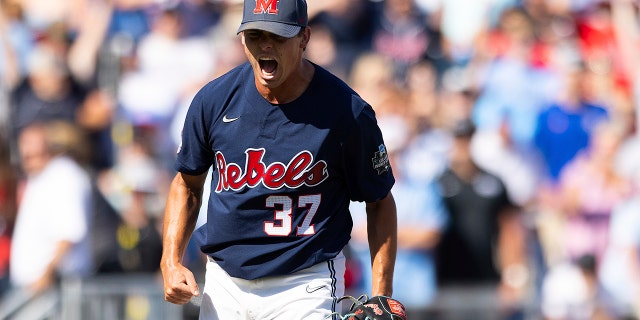 "There's so much to say about how much we've been through this year, how much we've been through, how much we've had to pick each other up and never give up," said team captain Tim Elko. "The story of our season will be told for years and years."
Ole Miss capitalized on a call-out runner who ran Oklahoma (45-24) in the sixth inning. The Rebels also surpassed an exciting performance by Cade Horton, who set a CWS Finals record with 13 strikeouts.
Brandon Johnson hit the boards in the ninth inning at 1-2-3 and catcher Hayden Dunhurst ran to the mound to hug Johnson and then tackle him after Sebastian Orduno swung and missed on the final pitch.
The national title is the first for the Ole Miss men's team and the second for the school. The women's golf team won the NCAA championship in 2021.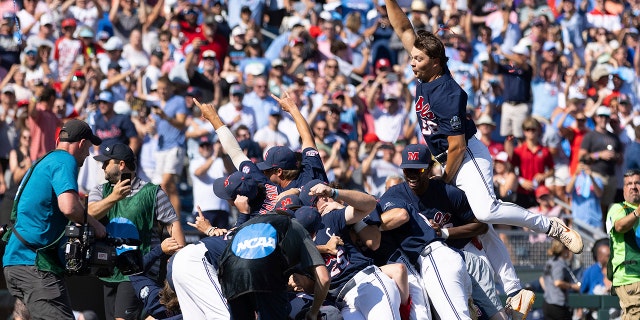 It's been an incredible journey for the Rebels and 22nd year coach Mike Bianco, who came under fire when his team went 22-17 and 7-14 in an SEC game on May 1.
BLAKE ROBERTSON OF OLAHOMA MAKES INCREDIBLE CATCH BY FINDING IN COUNTRYMAN NOTRE DAME
Ole Miss beat North Carolina State in the final entry at large and had to hit the road for Regionals and Super Regionals. The Rebels finished the season 20-6, including 10-1 in the national tournament.
Their only CWS loss was 3-2 to Arkansas on Wednesday. The next day, Dylan DeLucia pulled off a four-punch shutout to defeat the Razorbacks and take the Rebels to the finals. DeLucia was named the CWS Most Outstanding Player after allowing one earned run, hitting 17 and going none in 16 2/3 innings.
Ole Miss, who won the first CWS Final 10-3, lost 2-1 before the eighth inning on Sunday. Trevin Michael replaced Horton with one strikeout and Jacob Gonzalez took the right flank to drive to a tie.
"Kind of knew we were going to start scoring in the eighth or ninth," said Gonzalez, 3 of 23 in the CWS, before single double and homering on Sunday. "That's how we are. We're going to apply pressure. We're not going to strike out and sit down. Luckily, I got a hit and I finally got to help the team this week."
After that, Michael (4-2) melted away, uncorking wild pitches that got Justin Bench to start and another one from Gonzalez.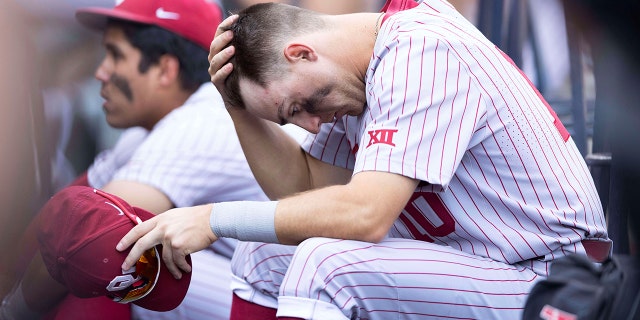 Hunter Elliot threw three hits, allowing two runs in 6 1/3 innings. Mason Nichols and John Gaddis (4-2) outplayed Johnson in ninth place.
Horton allowed four hits and went none during a flawless 107 pitch performance.
"We've made it here and we've come a long way this year," said Horton, a prospective first-round pick next month in the Major League Baseball Draft. "But we will be back. I know this because this team laid the foundation for the future of Oklahoma baseball."
Oklahoma turned out took a 1–0 lead in the sixth, but was stopped when John Spikerman, who threw the hit, was called out for interference by a runner for interfering with Elko at first base when he was trying to catch Elliott's throw.
Jackson Nicklaus was taken down by Elliott at the start of the pitch and was third after a sacrifice and a wild pitch. He returned home on Spikerman's head, but Bianco requested a video review when Spikerman was first called safe.
CLICK HERE TO GET THE FOX NEWS APP
Spikerman knocked off Elko's glove as he ran first and the ball was in foul territory. The call was dropped and it was decided that Spikerman was inside the baseline when he ran through the bag, requiring Nicklaus to return to third base.