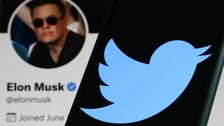 founder of twitter Jack Dorseythe first ever tweet sold as NFTs (a non-fungible token) was put up for sale by a buyer for a whopping $48 million — and attracted a startlingly measly maximum offer of less than $280 by the deadline this week.
That's when the seller contacted the potential owner of Twitter. Elon Muskurging him to bid – unsuccessfully.
Of course, entrepreneur Sina Estavi, chief executive of Malaysian crypto project Bridge Oracle, was counting on huge profits. Just over a year ago, he bought the Dorsey message as an NFT — a unique crypto asset — for $2.9 million, and put the NFT up for sale last week for $48 million. He promised to donate half of the proceeds to charity.
Dorsey's world-first tweet (written on March 21, 2006) modestly states, "Just setting up my twitter."
So far, Musk has not made an NFT proposal, but he still intends to buy Twitter and make it private until the company's board of directors thinks of ways to thwart his plans.
As for the Dorsey NFT, Estavi doesn't seem to be too worried about its prospects.
Estavi added: "This NFT is not just a tweet. This is the Mona Lisa of the digital world."