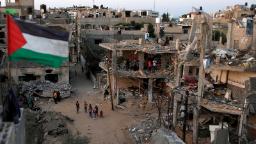 "Ending the occupation alone will not be enough," the report says, calling for more action to ensure the equal enjoyment of human rights.
He cited evidence that Israel "has no intention of ending the occupation" and is pursuing "total control" of what he calls the Occupied Palestinian Territory, including East Jerusalem, which was captured by Israel during the 1967 war.
Israel boycotted the investigation and banned investigators from entering.
The Israeli Foreign Ministry said, "This is a biased and one-sided report, tainted with hatred for the State of Israel and based on a long series of previous one-sided and biased reports."
While it was prompted by the 11-day conflict in May 2021 that killed 250 Palestinians from Gaza and 13 in Israel, the mandate to investigate includes alleged human rights violations before and after and aims to investigate the root causes of tensions.
US State Department spokesman Ned Price reiterated Washington's disagreement with the investigation and said the report does not address US concerns about a "unilateral, biased approach that does nothing to advance the prospects for peace."
Citing an Israeli law banning the naturalization of Palestinians who are married to Israelis, the report accuses the country of granting "various civil status, rights and legal protection" to Arab minorities. Israel says such measures protect national security and the country's Jewish character.
Israel withdrew from Gaza in 2005, but with the help of Egypt, it is sealing off the borders of the enclave now ruled by the Islamist Hamas. The Palestinian Authority has limited self-government in the West Bank, which is dotted with Israeli settlements.
Hamas, which has vowed to destroy Israel, launched a rocket-fired war in May 2021 following actions to evict Palestinian families in East Jerusalem and in retaliation for Israeli police clashes with Palestinians outside the Al-Aqsa Mosque, the third-largest Islamic sanctuary.
The fighting in Gaza was accompanied by rare street clashes in Israel between Jewish and Arab citizens.
Hamas welcomed the report and called for the prosecution of Israeli leaders for what it said was a crime against the Palestinian people.
The Palestinian Authority also praised the report and called for accountability "in a way that ends Israel's impunity."
Next week, the report will be discussed at a meeting of the Human Rights Council in Geneva. The Authority cannot make legally binding decisions.
The United States withdrew from the Council in 2018 over what it called a "chronic bias" against Israel and only joined fully this year.
Unusually, the commission of inquiry, which consists of three members from Australia, India and South Africa, has an open mandate. The diplomat said that his mandate is already a sensitive issue. "People don't like the idea of ​​eternity," he said.