From 2019pay special attention to the statistical analysis of CoRev (at the end):
Reader JBH writes:

"Employment has grown remarkably well under this president."

I laughed and laughed and laughed when I read this. Why? Let's take a look:

Figure 1: Non-farm employment (dark blue) and stochastic trend (red). Stochastic trend estimated using data for 2010-2016 and regression of the difference of the first logarithm by a constant. Source: March 2019 BLS employment report and author's calculations.

We are doing just as well as we did in 2010-2016, even after massive tax cuts and the end of trillions in spending caps.

But kudos to JBH for living in a fantasy world… it's definitely nicer than my world. Thanks Drumpf!

Update, 04/12/2019 4:15 PM PT: Reader CoRev Requests:

Can you provide source data?

Here data set used, downloaded directly from FRED.

Update, 04/16/2019 9:00 AM PT: A CoRev reader provided his control file for my trend analysis. No comment here:

http://econbrowser.com/archives/2022/06/when-people-who-dont-understand-basic-time-series-analysis-try-to-talk-time-series-analysis
About three years after CoRev introduced his "anomaly analysis", I still don't fully understand what he does. It looks like a deviation from the mean. If anyone can tell me why this confirms his view of the world (i.e. my choice of using a stochastic trend and time sampling bias versus seeing Trump's job boom up to this point), please tell me. I'm (still) dying to understand.
In the meantime, here is a chart showing problems with linear (deterministic) trends for non-farm payrolls (reproduced from "Why Friends Don't Let Friends Apply Deterministic Time Trends to Off-Farm Employment"):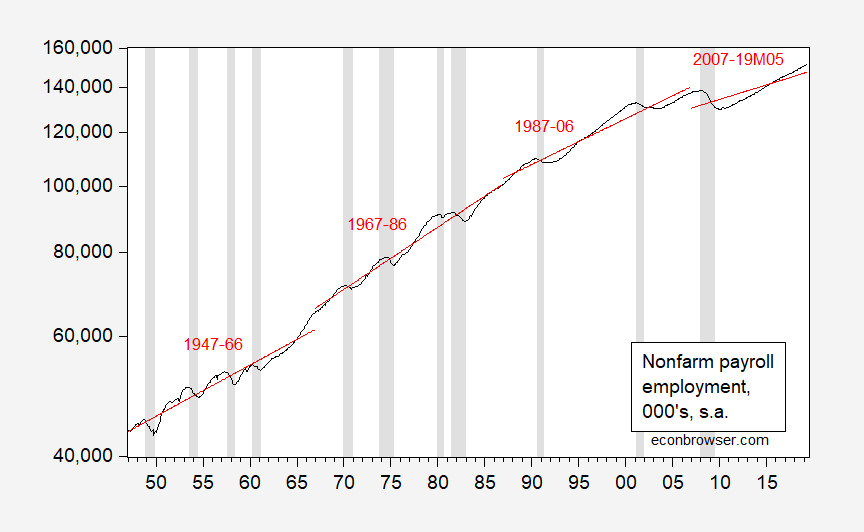 Figure 1: Nonfarm payrolls, 000, sa (black) and linear deterministic trends estimated over 20-year subsamples. Recession dates as determined by the NBER are in grey. Source: BLS, May employment report, NBER and author's calculations.