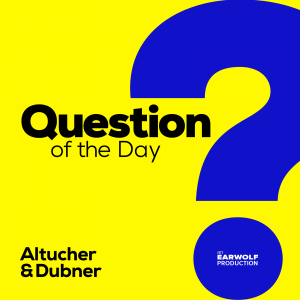 When Stephen Dubnernew podcast question of the day launched in August, he immediately fired at No. 1 on the iTunes chart. Last month it was selected by iTunes as one of the best of 2015. (You can subscribe here.) You can now come and watch the live broadcast of the show on Thursday, January 14 at bell house in Brooklyn. Join Dubner, his question of the day co-host, James Altucherand their special guest Negin Farsad for an evening of conversation that will range from the ridiculous to the sublime (and sometimes both).
concept of something question of the day It's simple: Dubner and Altucher take turns asking each other a question, like "What are the secrets to being attractive?" "Which future discovery or invention is the best?" "What social norms will be considered immoral in 100 years?" In the blink of an eye, their conversation will range from fact-based reality to uncompromising dogma.
With Dubner and Altucher, you never know where the conversation will go or what you'll find out. Add a live audience – and them questions – and the evening will definitely be unforgettable and very fun.
Buy tickets here. Or submit your question for a chance to win two free tickets. Post it below in the comment section or tweet it @QOD.