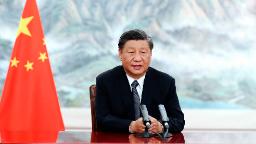 Xi, who spoke at a business forum ahead of Thursday's virtual summit with leaders of the BRICS economic bloc of Brazil, Russia, India, China and South Africa, described the world as being at a critical juncture as it struggles to recover from the crisis. pandemic amid what he called new "security challenges".
"The tragedies of the past tell us that hegemony, group politics and bloc confrontation bring neither peace nor security, they only lead to wars and conflicts," he said via video link.
"The Ukrainian crisis is another wake-up call for everyone in the world. He reminds us that blind faith in the so-called "position of power" and attempts to expand military alliances and seek our own security at the expense of others will only put ourselves in a security dilemma," Xi said.
The comments turned out to be a veiled reference to the US and NATO, which Beijing has repeatedly accused of provoking Russian aggression in Ukraine.
He also took aim at Western sanctions, saying that such sanctions are a "double-edged sword" that arm the global economy and "will harm the people of the world."
Instead, countries should "show solidarity and coordination," he said, also touting China's new development and security initiatives as plans.
The comments provide a glimpse of China's priorities as it hosts the annual BRICS summit, a virtual event in Beijing that also marks the first forum meeting between Russian President Vladimir Putin and the leaders of the world's major economies since invading Ukraine earlier this year.
In his own video address at Wednesday's event, Putin said Russia was "redirecting" its trade flows to the BRICS countries and other "reliable international partners," according to the Kremlin's transcript.
He also spoke out against Western economic action, saying that "politically motivated sanctions" and "competitive pressure mechanisms" undermine global business and "go against common sense and basic economic logic."
Sanctions have been a key tool used by Western governments and their allies against Russia since its unprovoked invasion of Ukraine as they try to force it to backtrack on a brutal attack that sparked a humanitarian crisis and allegations of
war crimes
against civilians in Ukraine.
The war in Ukraine is expected to overshadow the summit, the bloc's fourteenth since the bloc's inception in 2009 as a means to "serve the common interests of emerging market and developing countries."
But the crisis — and a slew of Western sanctions — could also give impetus to some of the issues the group has been discussing for years, including the advancement of trade settlements outside the US dollar system, to which Russian institutions are now severely restricted.
Putin mentioned the possibility in his speech on Wednesday, saying that BRICS partners are "developing credible alternative mechanisms for international settlements" and "exploring the possibility of creating an international reserve currency based on the BRICS currency basket."
But how wholeheartedly the entire bloc will embrace major initiatives, such as abandoning the dollar system or sweeping statements condemning Western sanctions, at Thursday's summit remains to be seen.
While each of the BRICS leaders avoids directly condemning Russia, they have varying degrees of interest in ensuring that no one approves of her actions or does not work too closely with Russia, and also does not come into conflict with Western friends.
Differences in tone were evident in each of the leaders' speeches at Wednesday night's forum, an event for business leaders on the sidelines of the summit.
In his video message, Indian Prime Minister Narendra Modi focused on the forum itself and his hopes that it will spark an exchange among startups. South African President Cyril Ramaphosa focused on poverty, inequality and issues such as access to a vaccine, as well as trade and investment, according to their governments' transcripts.
Brazil's Jair Bolsonaro said that in the face of global economic risks, his country is open to further economic integration, according to Brazil's national public news agency.