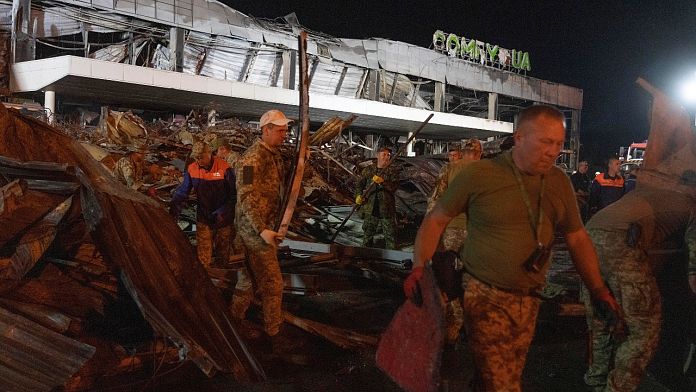 Monday's Russian missile attack on a crowded shopping center in central Ukraine was strongly condemned by the UN and the West. G7 leaders called it a war crime and vowed to bring President Putin to justice.
Firefighters and soldiers search for survivors among the rubble of a building in Kremenchuk following a terrorist attack that is known to have killed at least 18 people and injured dozens. According to official figures, more than 30 people are missing.
Early Tuesday morning, family members of the missing lined up outside a hotel across the road where rescuers had set up a base.
Ukrainian President Volodymyr Zelensky called Russia the largest terrorist organization in the world "after the deadly explosion." More than 1,000 people were inside when two Russian rockets hit the building, he said.
The leaders of the largest democracies of the Group of Seven (G7) called the attack "disgusting" at a summit in Germany.
"Indiscriminate attacks on innocent civilians are a war crime. Russian President Putin and those responsible will be held accountable," a German government spokesman said in a joint statement on Twitter.
At Ukraine's request, the UN Security Council called an emergency meeting in New York to discuss the attack.
The UN called the strike "deplorable," stressing that civilian infrastructure "should never be attacked," spokesman Stéphane Dujarric said.
At least 18 people have died, 25 have been hospitalized, and about 36 are missing, Poltava Region Governor Dmitry Lunin said on Tuesday. The death toll is two more than on Monday night, and there are fears that more bodies may be found. On Monday, emergency services said 59 people were injured.
Russia's attack on Kremenchuk was one of several strikes against civilians in Ukraine on Monday:
At least eight people were killed and 21 injured as a result of shelling by Russian troops while collecting water in the eastern city of Lisichansk, regional authorities said.
According to the regional governor, Russian troops shelled the central districts of Kharkiv, damaging apartment buildings and a primary school, killing five people and injuring 22. He added that five children were among the victims.
Six people, including a child, were reportedly injured in a rocket attack in the Odessa region of southern Ukraine that destroyed houses and started a fire.
The missile attack on Kremenchuk unfolded as Western leaders vowed to continue to support Ukraine and the world's major economies prepared new sanctions against Russia, including capping oil prices and raising tariffs on goods.
Zelenskiy said the mall "poses no threat to the Russian army" and "has no strategic value." He accused Russia of sabotaging "people's attempts to live normal lives, which makes the occupiers so angry."
In his late-night speech, he said that it appeared that Russian troops deliberately targeted the mall. "Today's Russian attack on a shopping center in Kremenchuk is one of the most audacious terrorist attacks in European history," he added.
The mayor of Kremenchuk, Vitaliy Maletsky, wrote on Facebook that the shelling "came in a very crowded place, which with absolute certainty has nothing to do with the armed forces."
Kremenchuk is located about 330 km southeast of Kyiv and more than 200 km from the eastern front line.
In the Russian government's first commentary on the missile attack, UN spokesman Dmitry Polyansky pointed to numerous inconsistencies, which he did not elaborate on, stating on Twitter that the incident was a "provocation" by Ukraine. He later retweeted a post from another official Russian organization, hinting that the attack was staged.
Russia has repeatedly denied it is targeting civilian infrastructure, although Russian attacks have hit other shopping malls, theatres, hospitals, kindergartens and apartment buildings as well.
Footage from the scene after the latest attack shows giant plumes of black smoke, dust and orange flames as ambulance crews rush to search for victims in broken metal and concrete and put out fires.
Russia increasingly used long-range bombers in the war. Ukrainian officials said Russian Tu-22M3 long-range bombers flying over the Kursk region in western Russia fired a missile that hit a shopping mall and another hit a sports arena in Kremenchuk.
The Russian strike echoed attacks earlier in the war that resulted in a high number of civilian casualties – for example, one in March in the Mariupol theater of operations, where many civilians were hiding, killing about 600 people, and another in April at a train station in eastern Kramatorsk. which resulted in at least 59 deaths.