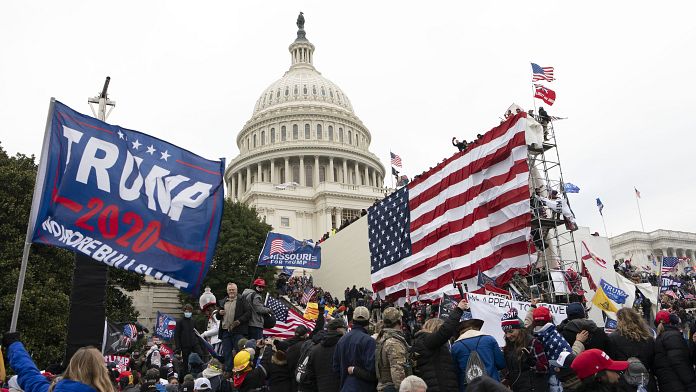 Donald Trump dismissed his own security officials' warnings about armed demonstrators at the Jan. 6 rally and made desperate attempts to join his supporters as they marched toward the Capitol, according to dramatic new testimony Tuesday before a House committee investigating the 2021 uprising.
Cassidy Hutchinson, a little-known former White House aide, described that day an irate and defiant president who tried to let armed demonstrators avoid security checks at a morning rally to protest his 2020 election defeat, and later grabbed the wheel. presidential SUV when the Secret Service refused to let him into the Capitol.
And when events at the Capitol escalated into violence, with the crowd chanting "Hang Mike Pence," they testified that Trump refused to intervene.
Trump "doesn't think they're doing anything bad," Hutchinson recalls the words of his boss, White House Chief of Staff Mark Meadows.
Hutchinson's explosive, minute-by-minute account of what was happening inside and outside the White House provided a vivid description of a president so unwilling to admit defeat in the 2020 election to Joe Biden that he acted in a rage and refused to end the siege on the Capitol.
He painted a damning picture of chaos in the White House as those around the defeated president split into one faction supporting his false allegations of electoral fraud and another trying unsuccessfully to end the violent attack.
The account was especially compelling because of her proximity to power: Hutchinson described what she had seen first hand and what others in the White House had said.
Hutchinson said a White House security official told her that Trump fought a security official for control of the presidential SUV on Jan. 1. 6 and demanded that the Capitol be taken when the uprising began, despite having been warned earlier that day that some of his supporters were armed.
This account was quickly disputed. Bobby Engel, the agent who was driving the presidential SUV, and Trump's security officer Tony Ornato are ready to testify under oath that no agents have been assaulted and Trump never threw himself behind the wheel, a person familiar with the matter told the AP. on condition of anonymity. .
Like the events of Jan. 6 Hutchinson, then special assistant to Meadows, described the chaos in the offices and corridors of the White House. Trump's staffers, some of whom had been forewarned of the violence, grew increasingly alarmed as rioters at the Capitol took over police and interrupted Biden's victory confirmation.
Trump was less concerned, she said, even when he heard the crowd shouting, "Hang Mike Pence!" Hutchinson recalled that Meadows told his aides that Trump "thinks Mike deserves it."
In most of her answers, the young ex-assistant spoke casually. But she said she was "disgusted" by Trump's tweet about Pence during the siege.
"It was unpatriotic, it was un-American, and you watched the Capitol building get messed up because of the lies," Hutchinson said, adding, "I still struggle to deal with the emotion of it."
Trump denied much of what Hutchinson said on his Truth Social. He called it "totally fake" and "bad news".
Panelists praised Hutchinson's bravery in testifying and said the other witnesses were intimidated and did not cooperate.
"I want all Americans to know what Ms. Hutchinson did not do well today," said the Wyoming Rep. Liz Cheney, the Republican who led the interrogation.
Some of Hutchinson's former colleagues also defended her version. Mick Mulvaney, who was Trump's chief of staff before Meadows, tweeted that he knew Hutchinson and "I don't think she's lying." Sarah Matthews, Trump's former press aide who also collaborated with the committee, called the testimony "damned."
Describing the post-election White House scene, Hutchinson portrayed the president thrashing about in anger and prone to violent outbursts. Some assistants tried to curb his impulses. Some didn't.
Hutchinson told the group that Trump had been briefed earlier in the day that some protesters outside the White House had guns. But he replied that the protesters were "not here to hurt me," Hutchinson said.
She quoted Trump as profanity ordering his staff to take away metal-detecting magnetometers, which he believed would slow down supporters who had gathered for his speech on the Ellipse behind the White House.
In an excerpt from an earlier interview with the committee, she recalled the president saying things like, "I don't care if they have guns."
Hutchinson told stories of an angry president who couldn't admit defeat. According to her, in early December, she heard a noise in the White House and, entering the room, found ketchup flowing down the wall and broken porcelain. It turned out that the president threw his lunch at the wall in disgust because of this article. Trump denied this in his social media posts.