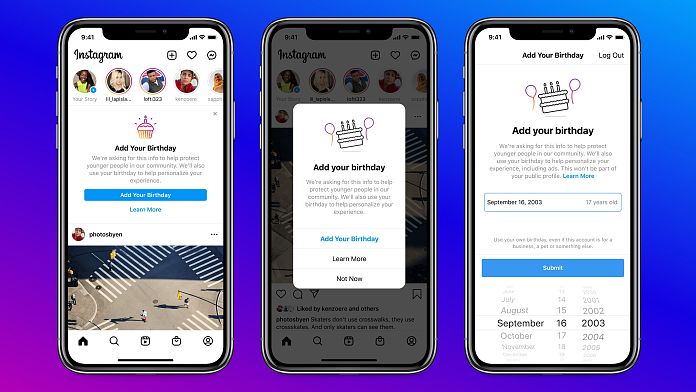 Instagram users must tell the app when they were born or their use will be blocked, the Facebook-owned company announced as it rushes to take child protection measures required by new rules that come into force in the United Kingdom on Thursday. , September 2.
AT blog post published on MondayInstagram said it will start asking all users who have not yet entered their date of birth to do so every time they open the app.
"We'll show you a notification multiple times, and if you haven't given us your date of birth by a certain point, you'll need to share it to continue using Instagram," the post reads.
The company said it needed to collect users' birthdays to verify their ages and implement new features that improve privacy and security for children using Instagram.
"Tech companies didn't suddenly develop a conscience"
Britain's new "Children's Code" rules, officially known as the Age Appropriate Design Code (AADC), apply to companies based outside the UK and impose hefty fines for services deemed to have failed to protect underage users.
Filmmaker and UK House of Lords member Baroness Beeban Kidron, who originally introduced the legislation, told Euronews Next that the AADC had an impact even before it went into effect.
"Instagram's announcement is in line with a pattern of tech companies introducing changes to protect children's privacy and safety before AADC goes into effect, which should encourage lawmakers," she said.
"Of course, companies don't say they're responding to legislation because they don't want to admit that regulation works. Not all tech companies have developed a conscience at the same time!"
What has Instagram changed?
In March, Instagram announced that adults around the world would no longer be able to send direct messages to people under 18 who didn't already follow them. Last month, the company announced that accounts for children under 16 will now have a higher level of privacy by default.
Instagram also said last month that it would reduce the amount of information it shares with advertisers about those under 18. In its July 27 announcement, the company said advertisers would only be able to customize ads based on a young person's age, gender, and location, "starting in a few weeks."
"This means that previously available targeting options, such as those based on interests or their activity in other apps and websites, will no longer be available to advertisers," the company said in a statement.
Anticipating that some younger users may try to bypass the new features, Instagram said on Tuesday it will use artificial intelligence to determine if a user is lying about their age by cross-referenced to their birthday with posts, comments and data from connected apps. .
"We look at things like people wishing you a happy birthday and the age given in those messages, like: "Happy 21st birthday!" or "Happy Quinceañera", said facebook blog post technology announcement last month.
The company will also use AI to prevent young users from receiving messages from so-called "adults who have shown potentially suspicious behavior," which Facebook says means accounts owned by adults that have recently been banned or reported by a child.
Why is Instagram making these changes?
While none of Instagram's announcements in recent months have mentioned it, they all serve to bring the platform into line with the new set of rules that go into effect in the United Kingdom on September 2nd.
The UK Age Appropriate Design Code (AADC) – the official name of the Children's Code – makes social media companies such as Facebook, YouTube and others legally responsible for the content their algorithms provide to children under 18 years of age.
According to AADC, companies will no longer be able to use the claim that their platforms are not made for children as an excuse.
The rules apply to services that have UK users, even if they are based outside the UK. If the UK Information Commissioner's Office finds a breach of the code, companies could be fined more than €20 million or four per cent of their annual turnover.
Kidron told Euronews Next that she hopes further regulation of technology companies will follow the AADC.
"These changes are just the beginning. All services that children can access are within the code, and over time we will see new design norms. It's great to hear that development teams on major platforms are finally considering the "best interests of children" as stated in the code when they create new products and services," she said.