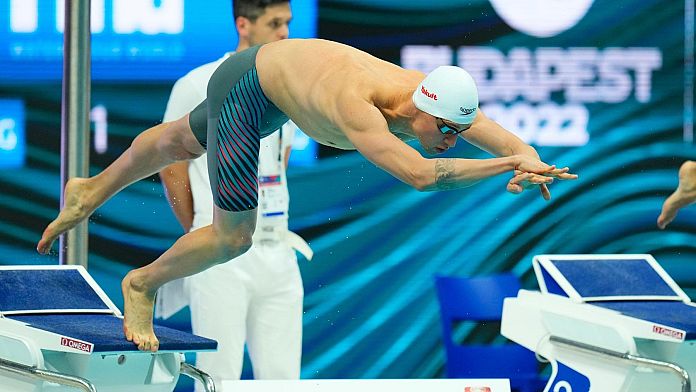 Elite swimmer Mykhailo Romanchuk does not know if his father managed to see him win the Ukrainian medal at swimming world championships.
Romanchuk's father is fighting in eastern Ukraine, where pockets of resistance still deny Russia full military control of the region nearly four months after it launched its invasion.
"He's in a hot spot and it's a tough time," Romanchuk said after winning bronze in the men's 800m freestyle on Tuesday in Budapest.
Romanchuk is hesitant to talk to his father for fear that his father's whereabouts could be traced through the call.
"They can't connect to the network because the Russians can search everything," Romanchuk said. "But every morning he sends me (a message) that he's fine."
Romanchuk, 25, who is still going to race the men's 1500m and later the 10k and 5k open water races at the World Championships, almost never made it to Budapest.
"I wanted to go to war to protect my home," said Romanchuk, who spent 10 days in agony with his wife and family looking for the best course of action after Russia invaded his country on Feb. 24.
"We decided there was nothing I could do about the gun. It's better for me to keep training, doing what I do best," said Romanchuk, who won bronze in the 800m and silver in the 1500m at the Tokyo Olympics last year. about the situation in Ukraine.
As the training facilities were destroyed by the war, Romanchuk was invited by German swimmer Florian Welbrock, who had finished second to American Bobby Fincke in the 800m, to join him in Germany for training.
Romanchuk and Wellbrock embraced after finishing 1-2 in qualifying for Tuesday's race. But Fincke's strong finish prevented a repeat in the final. Romanchuk finished 0.69 seconds behind Finke. The top three set national records.
Romanchuk said he was both "proud and disappointed" with his third place finish. According to him, his medal proves that "Ukrainians will fight to the end, no matter what the situation is."
Russian athletes suspended from participation in the World Swimming Championships
Swimmers from Russia and its ally Belarus are excluded from the championship. Romanchuk said that he did not know how he would have reacted if they were not there.
"My reaction could have been aggressive, I don't know," Romanchuk said, referring to Olympic backstroke champion Yevgeny Rylov, who spoke at a pro-war rally in Moscow. "Inside, I was ready to go and kill him," he said of Rylov. "But he used to be a good friend. Before. But everything has changed."
Romanchuk spoke about the destruction that Russia had inflicted on his country, about the people killed, the broken lives.
It is difficult for him to concentrate on swimming.
"Especially in the beginning when I moved to Germany to join the band. It was hard, because mentally you are at war and sleep only three or four hours, because you constantly read the news, "said Romanchuk. "In the beginning it was so hard, but then you realize that all you can do is swim, train, represent your country."
For the newly minted medalist, it is time to be proud of yourself.
"I am so proud of all the people in Ukraine. That's all I can say. I am proud of the people, the government, the president. I am so proud of them," Romanchuk said. "And I'm really happy to be Ukrainian."