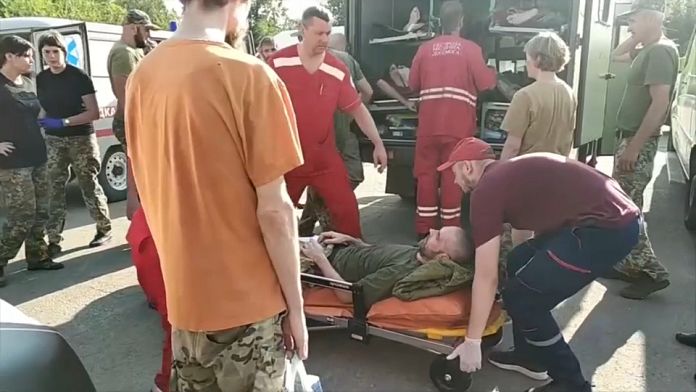 President of Ukraine Volodymyr Zelensky said that 144 Ukrainian fighters were released from Russian captivity as part of a prisoner exchange.
Ukrainian military intelligence said it was the largest exchange of prisoners since the start of the war.
Of those released, 95 participated in the defense of the Azovstal steel plant in the devastated city of Mariupol in southern Ukraine before Russian forces took it over a few weeks ago.
Denis Pushilin, a separatist leader in Donetsk, said both sides released an equal number of soldiers.
Zelensky also said that five people were killed in a Russian missile attack on Mykolaiv.
"Only today's Russian strike on Nikolaev, when 10 missiles hit only civilian targets, in itself proves to the whole world that pressure on Russia is not enough," he added.
Zelensky also said that Ukraine would sever relations with Syria due to the recognition of the Lugansk and Donetsk regions in eastern Ukraine as "independent and sovereign."
Syria is a strong ally of Russia, which joined the Syrian conflict in September 2015, helping to tip the balance of power in Assad's favor.