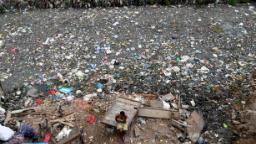 In announcing the ban, the government rejected demands from food, beverage and consumer products companies to delay the restriction to avoid disruptions.
But in India, where about 14 million tons of plastic is used annually, there is no organized system for handling plastic waste, which leads to ubiquitous garbage.
Streets in various cities are littered with used plastic products that end up clogging drains, rivers and oceans, and killing animals.
India's ban on single-use plastic items includes straws, cutlery, headphones, packaging film, plastic balloon sticks, candy and ice cream, as well as cigarette packs and other products, Prime Minister Narendra Modi's government said in a statement.
PepsiCo, Coca-Cola, India's Parle Agro, Dabur and Amul have lobbied for straws to be released from the ban.
To help consumers, the government has eliminated plastic bags for now, but has asked manufacturers and importers to increase the thickness to encourage reuse.
In addition to food, beverage and consumer products companies, plastics makers have also complained about the ban, which they say has not given them enough time to prepare for the restrictions.
Some experts believe that enforcement of the ban could be difficult. The government has decided to set up control rooms to check for any illegal use, sale and distribution of single-use plastic products.
According to the United Nations, plastic waste has reached epidemic proportions in the oceans, where about 100 million tons have been dumped. Scientists have found large amounts of microplastics in the guts of deep-sea mammals such as whales.