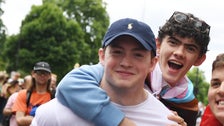 Cast members NetflixBritish LGBTQ youth romance Heartstopper was spotted marching in London's Pride parade on Saturday.
Dressed in a Pride flag, Joe Locke, who plays the curly protagonist Charlie Spring, and Keith Connor, who plays rugby hottie Nick Nelson, held hands and waved to the crowd. Fans of the show have lost it – in person and online.
Locke and Nelson were joined in the parade by Sebastian Croft (Ben Hope), Corinna Brown (Tara Jones), Toby Donovan (Isaac Henderson), Kizzy Edgell (Darcy Olsson) and Jenny Walser (Tori Spring).
As the group clashed with anti-LGBTQ protesters, the actors drowned out their chants with Whitney Houston's "I Want to Dance With Someone" and gave the middle finger as they bounced up and down.
Locke and Connor proudly tweeted about it.