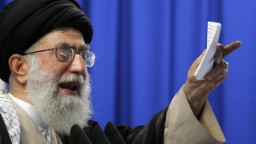 Father: Ayatollah Sayyid Javad Husaini Khamenei
Mother: Name not publicly available
Wedding: Married in 1964
Children: Mostafa, Mojtaba, Masood, Maysam, Hoda and Boshra
Education: Studied under the future Ayatollah Khomeini at the Islamic Seminary in Qom, Iran.
Other facts
Also known as Supreme Leader.
Schedule
1962- Together with Khomeini, he begins his participation in protests, speaking out against the policies of the Shah of Iran, Mohammad Reza Pahlavi.
1977 – Together with other clerics, he forms the Association of Combat Clerics, which becomes the Islamic Republic Party.
1980-1987 – General Secretary and member of the Central Command of the Islamic Republic Party.
June 1981 – Injured when a tape recorder bomb exploded at a press conference.
October 13, 1981 – August 3, 1989 – Iranian President.
March 1985 – Survive when a suicide bomb explodes nearby.
June 4, 1989 – present – Temporarily elected Supreme Leader of the Islamic Republic of Iran after Khomeini's death.
July 28, 1989 – A referendum makes his election official, and a group of religious leaders later confirms his election as supreme leader.
March 2012 – Khamenei's allies win about 75% of seats in parliamentary elections against Ahmadinejad's rival opposition movement.
January 9, 2018 – Speaking of the anniversary of the Iranian revolution that began in 1978, Khamenei says Iranians have a right to protest. But he also blames the United States and Israel for the recent civil unrest.