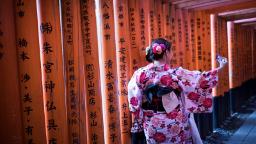 Editor's note. The incidence of coronavirus remains high worldwide. Health officials warn that travel increases your chances of contracting and spreading the virus. Staying at home is the best way to prevent transmission. Below is information on what you need to know if you are still planning to travel, latest information updated June 1st.
(CNN) –
If you are planning travel to Japan, here's what you need to know and what to expect if you want to visit the country during the Covid-19 pandemic.
Basics
Japan is finally taking steps towards reopening to tourists in the summer of 2022.
On May 26, Prime Minister Fumio Kishida announced that tourist groups made up of international travelers would be allowed entry into the country from June 10, and the number of allowed arrivals per day would increase from 10,000 to 20,000.
The move comes after the country began trial tours for small groups of three vaccinated tourists from Australia, the US, Thailand and Singapore, with all participants accompanied by guides and not allowed to travel on their own or go beyond their organized itineraries.
Under the latest measures, countries and regions will be divided into three groups according to the level of infection, according to a statement from the Japanese Foreign Ministry. Those arriving from low-risk destinations will be subject to less stringent entry requirements.
These "test" groups were set up to help the Japanese government and its official tourism body make a decision to scale up the reopening by the end of 2022.
After a member of a Thai group tour tested positive for Covid, that group's trip was cancelled. However, no changes were made to the national tourism regulations and no other groups were affected.
A complete list of countries whose citizens can enter under these current rules can be found here.
What is offered
An intoxicating mix of avant-garde and deeply traditional, Japan remains a top draw for travelers from all over the world. Whether it's participating in a traditional tea ceremony in Kyoto, strolling through Tokyo's Akihabara neighborhood in search of tech deals, or taking a dip in a hot onsen in the forests of Tohoku, it is a country that leaves its mark on all who visit.
Who can go
Japan has some of the strictest travel restrictions in the world, but plans to reopen to small groups of tourists in June 2022.
When this happens, people from low-infection countries will be exempted from testing upon arrival at airports in Japan and will not be required to undergo quarantine.
Consult MFA for the latest information.
What are the restrictions?
Individuals traveling under Japan's revised business travel regulations will be required to provide proof of a negative PCR test result performed within 72 hours prior to departure, signed and stamped by the laboratory where it was taken. While they will not need to self-isolate, they will need to provide details of their movements for the next two weeks and not use public transport.
From June 10, tourist groups from foreign travelers will be allowed entry, with less stringent restrictions for those from "low risk" countries.
These countries include Brazil, Canada, India, Israel, Mauritius, Mexico, Philippines, Singapore, Sri Lanka, UK and USA. Sea Foreign Ministry list for more information.
What is the situation with Covid?
As of June 1, Japan has recorded more than 8.8 million confirmed cases of the virus and 30,580 deaths.
Japan's health ministry has announced it will allow prefectures to allow younger patients deemed inferior to self-test for antigens and begin self-isolation at home without waiting for a doctor's diagnosis.
Previously, patients had to be registered as having Covid-19 by a doctor, who reported each new case to the government. If adopted, the new policy will allow patients to self-refer to local public health centres.
This measure is designed to reduce the number of people visiting hospitals and clinics.
Japan is considering following in Israel's footsteps and encouraging older residents to get their fourth dose of the vaccine. The State Department of Health has ordered additional shots from Moderna and Pfizer to roll out this plan, but there is no date yet for the program.
What can visitors expect?
While much of Japan remains open for business, cities are much quieter than usual and the government has the power to require businesses to close in areas with high transmission levels. Masks must be worn in public places.
useful links
Our latest cover
Osaka is now home to the world's first – and so far only – Super Nintendo Worldwhere visitors can put on virtual reality goggles and play a real version of Mario Kart.
Olympic fans who were unable to attend the Games can still attend many of the sites where the events took place.
Joe Minihane, Julia Buckley and Lilith Marcus contributed to this story.