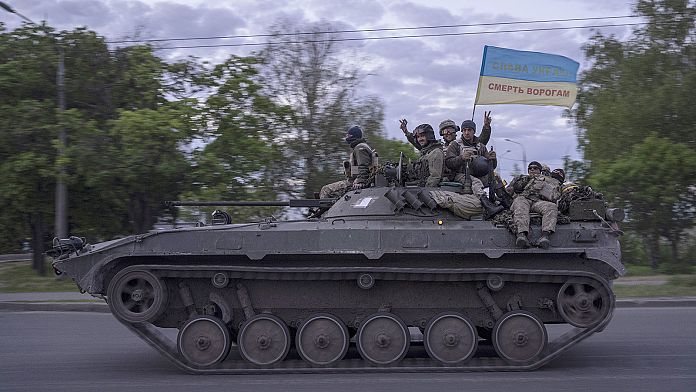 1. Zelensky promises to regain lost positions after Russia captures Lysichansk
Ukrainian President Volodymyr Zelensky acknowledged on Sunday that Kyiv forces had abandoned the strategic city in the east of Donbass after a hard-fought Russian offensive. But he promised to regain control of the area with long-range Western weapons.
Moscow claimed that taking Lisichansk meant "liberating" the Luhansk region less than a week after taking neighboring Severdonetsk.
Lysychansk was the last Ukrainian stronghold in Luhansk, a key Russian target. Capturing it would give Moscow's forces a stronger base from which to advance into the Donbass, an old industrial region with mines and factories that Vladimir Putin is seeking to take over.
The focus of the battlefield is now shifting to the neighboring Donetsk region, where Kyiv still controls patches of territory.
2. Ukraine declares the end of the "military operation" on the Snake Island
The Ukrainian flag has been raised again on Zmeiny Island in the Black Sea, the Ukrainian military said on Monday after Russian troops left the strategic outpost last week.
"The military operation has been completed, and… the territory (Snake Island) has been returned to the jurisdiction of Ukraine," Natalya Gumenyuk, spokeswoman for the Southern Military Command of Ukraine, said at a press conference.
Some analysts believe that Russia's withdrawal from Serpents' Island off Ukraine's southwestern coast could ease its blockade of Ukrainian ports.
But a Kyiv foreign diplomat told Reuters that this was not enough to ensure the safe transit of Ukrainian grain.
"There is a need for mine clearance, and Russia still has the capabilities (warships, coastal defense systems and air superiority) that will allow it to block sea lanes," the diplomat said.
3. Ukraine presented a reconstruction plan at a conference in Lugano
Ukrainian President Volodymyr Zelensky said on Monday that rebuilding his war-ravaged country is "the common task of the entire democratic world" as his prime minister outlined a $750 billion recovery plan after the guns of Russian occupiers fall silent one day.
As Russian troops continued their crushing offensive in Ukraine's eastern Donbas, Zelenskiy, in a video address to the Ukraine Reconstruction Conference in Switzerland, spoke about the needs of a country that has been moving up and down the path to democracy since the end of the Cold War. The war still threatens widespread devastation.
"The restoration of Ukraine is not a local project, not a project of one nation, but a common task of the entire democratic world — of all countries, all countries that can call themselves civilized," Zelensky told hundreds gathered in Lugano. "To restore Ukraine means to restore the principles of life, to restore the space of life, to restore everything that makes a person a person."
British Foreign Secretary Liz Truss said such a recovery would require a kind of "Marshall Plan" for Ukraine to help it recover.
Such ambitions, Zelensky said, will require massive construction, funding and security "in our entire country, which will be forced to continue to live next to Russia."
The task, which is already underway in some areas liberated from Russian troops, aims to use external experience, state funds and the labor of Ukrainians to rebuild hospitals, schools, government buildings, houses and apartments, and water and gas lines. and other shabby infrastructure.
Turkish authorities stop a Russian-flagged ship accused of transporting stolen Ukrainian grain
Turkey has stopped a Russian-flagged cargo ship off its Black Sea coast and is investigating a Ukrainian claim that it was carrying stolen grain, a senior Turkish official said on Monday.
The Ukrainian ambassador to Turkey said on Sunday that Zhibek Zholy had been detained by Turkish customs authorities. Ukraine had previously asked Ankara to detain her, according to an official and documents seen by Reuters.
Kyiv has accused Moscow of stealing grain from territories seized by Russian forces since their invasion began in late February. The Kremlin has previously denied that Russia has stolen any Ukrainian grain.
"At request, the ship Zhibek Zholy was stopped off Karasu," a senior official said. "The allegations are being carefully investigated. It is not written on the grain to which it belongs."