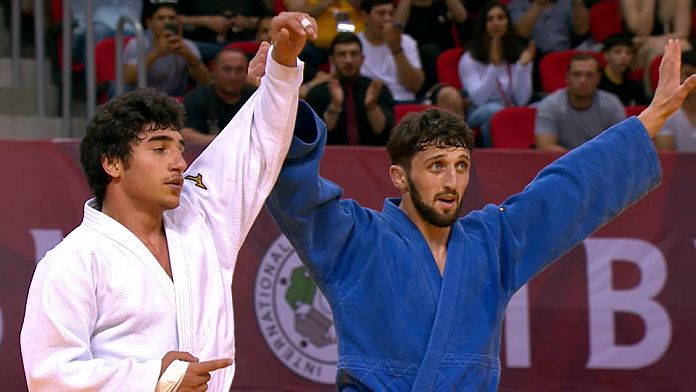 Judo was welcomed in Georgia in the usual way, with a passionate crowd full of angry fans.
In the 48 kg category, Melanie Legou-Clément won her first Grand Slam gold, celebrating this with her coach and former Olympic champion Lucie Decosse.
She was awarded the medal by Mr. Mohammed Merijah, IJF Director of Education and Coaching.
Home favorite Temur Nozadze had an amazing day filled with intense and exciting exchanges in the 60kg competition, giving the home crowd exactly what they came for.
He faced the promising Giorgi Sardalashvili in the Georgian final. The two young judokas fought in overtime in what turned out to be an epic battle culminating in a furious throw by Nozadze.
Both locked up, fully dedicated, one athlete had to leave. Nozadze's determination won out, bringing him victory and Grand Slam glory.
Subsequently, they showed great respect and friendship, which was appreciated by all those present.
Nozadze was awarded medals by Anzor Chubinidze, head of the Special State Security Service of Georgia.
"It's always hard when two Georgian judokas compete," Nozadze later told reporters. "Especially when it's the final, so it was very stressful and difficult for me. But you know, I was able to gather all my energy and finally won the gold medal. I'm very happy. "
After a joint warm-up, the friends became rivals in the final of the category up to 52 kg. Olympic champion in the 48 kg weight category, Distrija Krasniqi caught the Hungarian Reka Pupp with a strong O-soto, and then immediately went to work and earned Ippon.
IJF Sports Director Mr. Skander Hachicha was present at the presentation of the medals.
After that, in a press interview, Krasniqi explained that she was happy to team up with Pupp to train together before the competition.
"Off the carpet, I respect everyone and try to help everyone who needs help. And today we both had no sparring partners, so in fact she asked me to warm up. Of course, I agreed, because I needed her too. So we warmed up and wished each other good luck to see each other in the final, and it happened, which I'm very happy about."
Denis Vieru won his 5th Grand Slam gold in the 66 kg weight category. Georgian Judo Federation President Giorgi Atabegashvili presented medals
This was the first Grand Slam tournament and a medal for Hu Mimi in the 57 kg category. The 19-year-old Korean was awarded the gold medal by IJF Chief Referee Director Mr. Ki-Yong Chong.
The Georgian national team was at its best today, as many young judokas of the country made surprises in every category!
Fan favorite Vazha Margvelashvili landed the ippon of the day in his bronze medal contest, a classic move practiced by Georgian judokas. Margvelashvili has set the bar high for another two days of fantastic judo in Tbilisi, local fans can't wait.