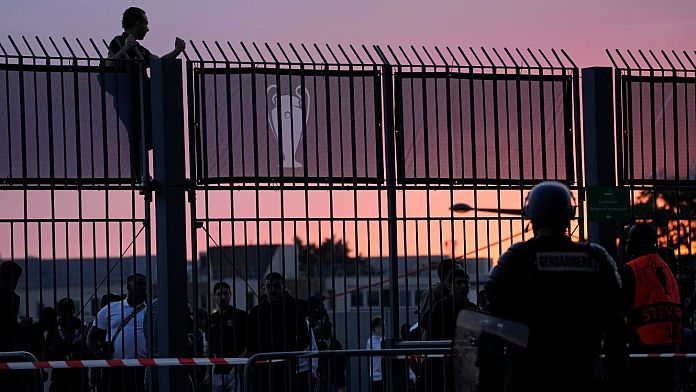 Real Madrid have turned to France for clarification after claiming fans were left "abandoned and defenseless" in the UEFA Champions League final.
The appeal to the Spanish club comes just six days after supporters staged brawls and pepper spray outside the Stade de France stadium in the suburbs of Paris, where the Spanish team beat Liverpool 1-0..
"We demand answers and explanations to determine who is responsible for leaving fans abandoned and defenseless," the statement said. "Fans who, in general terms, have always shown good behavior."
Liverpool had already complained about the organizers shortly after the final. Real Madrid are now questioning whether Paris should host the final after St. Petersburg stripped of honor for Russia's invasion of Ukraine.
"We would like to know the reasons that led to the fact that this place was chosen to host the final," the club said in a statement, "and the criteria, given the events of the day."
Real Madrid are as outraged as Liverpool by the crowd control tactics used after the game. "A wonderful football celebration", according to the club, "quickly turned into a series of unfortunate events that caused outrage around the world."
He also noted "revealing" images released by the media showing several supporters "attacking, harassing, attacking and looting".
French authorities said problems after the match arose as police were moved closer to the stadium gates to help disperse fans, leaving other areas unobserved.
Liverpool say it has collected more than 5,000 testimonies from supporters who traveled to Paris and witnessed the massacre, many of whom it says were treated "indiscriminately".
According to the French Football Federation (FFF), the 35,000 people who made it to the Stade de France did so either without tickets or with "fake" tickets, blocking other fans from entering. Among those caught in the ensuing crowd were children.
UEFA says it has also begun gathering evidence of how the Champions League final was staged.
"UEFA would like to sincerely apologize to all spectators who had to endure or witness the frightening and unpleasant events leading up to the UEFA Champions League Final," the organization said in a statement. statement.
"No football fan should be in this situation and it shouldn't happen again."