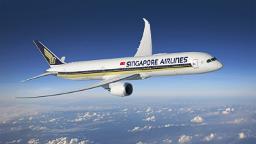 Singapore Airlines (SIA) confirmed to CNN Travel that all members of their crew, including pilots, gate agents, flight attendants and anyone whose job requires contact with the public, have been offered free coronavirus vaccines by the Singapore government.
"We are grateful to the government of Singapore for making the aviation sector a priority for the country's vaccination," said airline CEO Go Chun Fong in a statement that was emailed to the entire company on January 18.
"This reflects the importance of the sector and the critical role we are playing in both Singapore's economic recovery and the fight against the pandemic."
According to the airline, 5,200 SIA employees have already signed up for vaccinations. Vaccinations will start in a few days.
Fong, along with Singapore Transport Minister Ong Ye Kung, was one of the first citizens of the city-state to receive the vaccine. He received the first of two vaccinations and reports that "the procedure was painless and without fuss."
Once vaccinated, crew members will be subject to fewer controls and fewer coronavirus-related safety measures. For example, flight crew who are currently tested on the seventh day after returning to Singapore will be exempted from this test in the future.