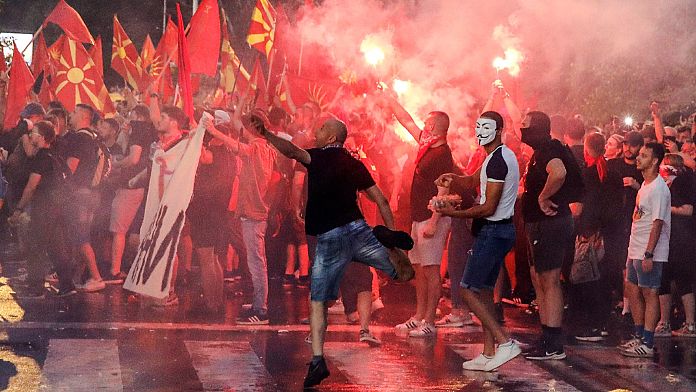 Police in North Macedonia say 47 officers were injured during a protest against a compromise on accession to the European Union.
Thousands of people have been demonstrating every night in Skopje since the weekend over a French proposal aimed at removing Bulgaria's objections to annexing North Macedonia.
The injuries occurred after a group of mostly young people broke away from the main protest, throwing rocks, metal bars, eggs and Molotov cocktails at the parliament building.
Prime Minister Dimitar Kovachevski condemned the attacks on police, saying the violence could not be justified.
Police also said 11 protesters were detained on Tuesday following clashes.
North Macedonia's Interior Minister Oliver Spasovsky, who visited the wounded policemen in hospital, confirmed that an investigation was underway.
"We all know very well who is behind the protests and who called for them," Spasovsky said, adding that those responsible face "the most severe punishments."
Spasovsky said there were signs that Molotov cocktails would also be thrown at government buildings in another protest on Wednesday night.
Bulgaria, which as an EU member has veto power over new members, wants North Macedonia to formally recognize that its language has Bulgarian roots.
Sofia also urged Skopje to recognize the presence of a Bulgarian minority in the country and take further steps to stop "incitement of hatred" against Bulgaria.
Many in North Macedonia, including the main opposition party VMRO-DPMNE, say that agreeing to these demands would undermine their national identity and favor Bulgaria.
North Macedonia's President Stevo Pendarovski and the government have backed a French-proposed deal that includes constitutional recognition of the existence of an ethnic Bulgarian minority.
MPs are set to meet on Thursday to set up a committee to study the proposal.
North Macedonia has been a candidate for EU membership for 17 years. In 2020, the country received the green light to start accession talks, but no date has been set for the talks to start.
European Council President Charles Michel on Tuesday urged North Macedonia to support France's proposed "compromise solution".
At a joint press conference, Michel emphasized that the offer was "too important an opportunity not to be missed" and could lead to accession negotiations within days.