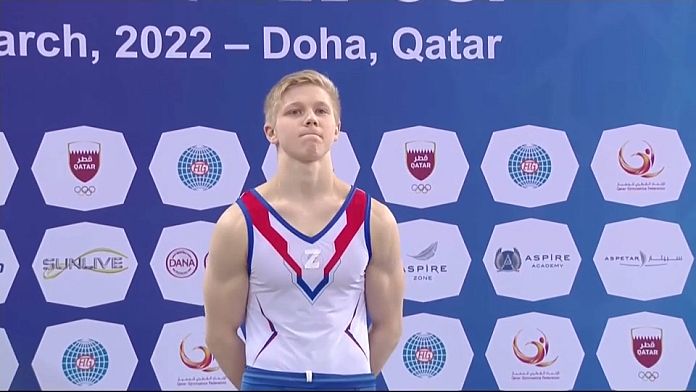 Russian gymnast Ivan Kulyak has been banned for one year for using the Z symbol on his uniform in support of the invasion of Ukraine.
Kulyak pinned the letter to his vest in place of his country's flag at the awards ceremony at the World Cup in Qatar in March.
The 20-year-old stood on the podium in Dohar next to Ukrainian gold medalist Ilya Kovtun.
The Z symbol has come to stand for Russian propaganda and aggression against Ukraine, and is regularly seen on Russian tanks and military equipment.
The Gymnastics Ethics Foundation (GEF) Disciplinary Commission found that Kulyak violated the federation's discipline, ethics, code of conduct, and technical regulations "when he wore the letter 'Z' on his jersey during competitions and awards ceremonies."
Along with the suspension, Kulyak must return the bronze medal and the CHF 500 (€477) prize money he won on the parallel bars, the International Gymnastics Federation (FIG) said in a statement. statement.
He was also ordered to pay 2,000 Swiss francs (1,908 euros) to cover legal costs.
Kulyak, a former national junior all-around champion who did not compete in the Tokyo Olympics, has 21 days to appeal.
The commission took no action against the head of the Russian delegation, Valentina Rodionenko, or Kulyak's coach, Igor Kalabushkin.
In response to the Russian invasion of Ukraine, the FIG decided to ban Russians and Belarusians from all competitions.
"If on May 17, 2023, the protective measures preventing the participation of Russian athletes in competitions are still in effect, the ban is valid and expires six months after the removal of these measures," the decision of the federation's disciplinary commission says.