NEWNow you can listen to Fox News articles!
Ukrainian President Volodymyr Zelensky released photos Thursday of him meeting with US Senators Lindsey Graham and Richard Blumenthal in Kyiv, saying his country continues to "count on the support of Congress" for weapons in the fight against Russia.
During a meeting on the 134th day of the war, Zelensky, according to his office, "called on senators to support the decision to providing Ukraine with modern air defense systems. "
"First of all, we appeal to you so that Congress will support Ukraine in the issue of supplying modern air defense systems," Zelensky said. "We must ensure such a level of sky security that our people are not afraid to live in Ukraine."
"The number one task for us today is to ensure that women with children can return to Ukraine by September 1, so that children can go to school, so that students do not leave and can enter universities," Zelensky added. "It is very important for us to do two things – to repair schools, universities, and also to have powerful air defense."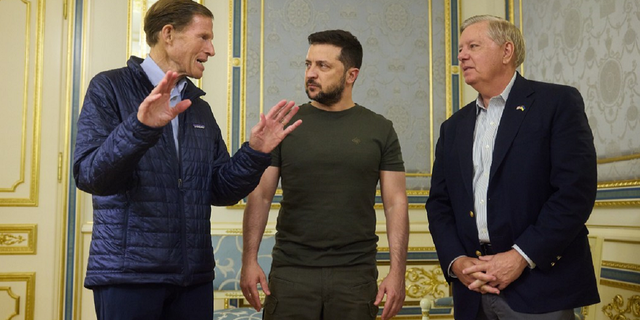 Zelensky also "thanked the senators for visiting our country and for the powerful tangible support from the United States at a time of tremendous challenges associated with Russian aggression."
CLICK HERE TO GET THE FOX NEWS APP
His department stated that "the parties separately raised the issue of increasing sanctions pressure on the aggressor state.
"Lindsey Graham and Richard Blumenthal reported Vladimir Zelensky on the work they are doing in the Senate to recognize the Russian Federation as a state sponsor of terrorism," it added.