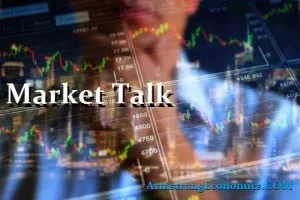 ASIA:
Japanese Ambassador to Sri Lanka Mizukoshi Hideaki said on Friday that Japan is ready to support Sri Lanka in its economic program with the International Monetary Fund (IMF) and in the development of the country. The presidential press service said that during a conversation between the Japanese ambassador and Sri Lankan President Gotabaya Rajapaksa Hideaki, he said that continuous efforts will be made to further strengthen economic, social and cultural relations with the island states, Daily Mirror Online reports. Sri Lankan President Rajapaksa during the discussion expressed deep gratitude to Japan for its support of Sri Lanka.
Major Asian stock markets had a green day today:
The NIKKEI 225 rose 382.88 points, or 1.47%, to trade at 26,490.53.
Shanghai rose 9.05 points, or 0.27%, to 3364.40.
Hang Seng rose 56.92 points or 0.26% to 21,643.58.
The ASX 200 rose 53.50 points, or 0.81%, to 6,648.00.
Kospi rose 42.26 points or 1.84% to 2334.27.
SENSEX increased by 427.49 points or 0.80% to 54,178.46.
Nifty50 increased by 143.10 points or 0.89% to 16,132.90.
Today was a mixed day for the major Asian currency markets:
AUD/USD rose 0.00611, or 0.90%, to hit 0.68436.
NZDUSD rose 0.00305 or 0.50% to hit 0.61775.
USDJPY rose 0.11 or 0.08% to hit 136,087.
USDCNY edged down 0.02315 or -0.34% to hit 6.69155.
Precious metals:
l Gold rose by $1.59/t. or 0.09% up to 1739.89
l Silver rose by $0.057/t. oz or 0.30% up to 19,238
Some economic news from last night:
Japan:
The purchase of foreign bonds increased from -1,599.3 billion to -1,415.4 billion.
Foreign investment in Japanese stocks fell from -419.1 billion to -490.4 billion.
Foreign exchange reserves (USD) (June) decreased from 1,329.7 billion to 1,311.3 billion.
South Korea:
The current account (May) increased from -0.08 billion to 3.86 billion.
Australia:
The AIG Services Index (June) fell from 49.2 to 48.8.
Exports (MoM) (May) increased from 1% to 9%
Imports (MoM) (May) increased from -1% to 6%
The trade balance (May) increased from 10,495 billion to 15,965 billion.
Some economic news for today:
China:
Foreign exchange reserves (US dollars) (June) decreased from 3,128 trillion to 3,071 trillion.
Japan:
Coincidence indicator (MoM) (May) fell from 0.0% to -1.3%
Leading Index (MoM) (May) fell from 2.1% to -1.5%
The leading index fell from 102.9 to 101.4.
Hong Kong:
Foreign exchange reserves (USD) (June) decreased from 465.00 billion to 447.30 billion.
Singapore:
Foreign exchange reserves in US dollars (MoM) (June) decreased from 345.3 billion to 314.3 billion.
EUROPE/EEA:
Europe faces a growing risk of recession due to rising oil and gas prices amid fears that Russia could cut off supplies entirely, Reuters reported. According to Nomura, a Japanese investment bank with significant operations in London, reports The Guardian.
Europe's major stock markets had a green day:
CAC 40 increased by 94.32 points or 1.60% to 6006.70.
The FTSE 100 rose 81.31 points, or 1.14%, to 7,189.08.
The DAX 30 was up 248.70 points or 1.97% at 12,843.22.
Today was a mixed day in the major currency markets in Europe:
EURUSD fell 0.0022 or -0.22% to hit 1.01632.
GBPUSD rose 0.00981 or 0.82% to hit 1.20193.
USDCHF rose 0.00365 or 0.38% to hit 0.97425.
Some economic news from Europe today:
Swiss:
US unemployment rate (June) fell from 2.1% to 2.0%
Unemployment rate sa (Jun) remains flat at 2.2%
Germany:
German industrial production (MoM) (May) fell from 1.3% to 0.2%.
France:
France's total reserve assets (June) increased from 237,654.0 million to 240,187.0 million.
GREAT BRITAIN:
Halifax House Price Index (MoM) (June) rose from 1.2% to 1.8%.
The Halifax House Price Index (YoY) increased from 10.5% to 13.0%.
Labor productivity decreased from 0.3% to -0.8%.
USA/AMERICA:
The Federal Reserve is poised to tighten monetary policy if inflation continues to pick up, according to minutes released this Wednesday. We should expect a 50-75 bp rate hike during the July meeting. Central bankers expect inflation to continue to rise, and a sustained increase in the target band for the federal funds rate will be appropriate to achieve the committee's goals." The 2% target is still seen as critical to maximizing sustainable employment, but the 8.6% figure released last month is cause for concern.
The US central bank also cut its 2022 GDP forecast from 2.8% to 1.7%. Consumer sales, a figure closely watched by the Fed, are declining, as is investment. Total personal consumption spending is expected to grow by 5.2% in 2022, compared to the previously presented estimate of 4.3%.
U.S. weekly initial jobless claims rose by 4,000 last week to 235,000, the largest number of new jobless people since mid-January 2022. The number of ongoing hits a week behind rose by 51,000 to 1.375 million.
US Market Closing:
The Dow rose 346.87 points, or 1.12%, to 31,384.55 points.
The S&P 500 rose 57.54 points, or 1.5%, to 3902.62.
The Nasdaq rose 259.49 points, or 2.28%, to 11,621.35.
Russell 2000 is up 42.06 points, or 2.43%, to 1769.6.
Closing the Canadian Market:
The TSX Composite climbed 333.51 points, or 1.78%, to 19,063.17.
The TSX 60 advanced 16.97 points or 1157.81 points.
Brazil Market Closing:
Bovespa advanced 2,010.74 points, or 2.04%, to 100,729.72.
ENERGY:
It was a green day in the oil markets today:
Crude oil rose by $4.09/bbl. or 4.15% up to 102,620.
Brent rose by $3.87 per barrel. or 3.84% to 104.56.
Natural gas rose $0.785/mbtu, or 14.25%, to 6.2910.
Gasoline rose $0.1794/gal, or 5.54%, to $3.4160.
Heating oil rose $0.2604/gal, or 7.64%, to $3.6710.
The above data was collected around 2:28 pm EST on Thursday.
The main gains in commodities were natural gas (14.25%), heating oil (7.64%), gasoline (5.54%) and palladium (5.65%).
The worst losing commodities are fattening cattle (-0.43%), methanol (-1.33%), orange juice (-5.72%) and bitumen (-3.69%).
The above data was collected around 2:39 pm EST on Thursday.
BONDS:
Japan 0.244% (+0.1bp), US 2 3.04% (+0.080%), US 10 3.0019% (+9.09bp); US 30's 3.19% (+0.075%), Bunds 1.303% (+14.5 bp), France 1.8480% (+8.5 bp), Italy 3.377% (+13.5 bp), Turkey 18, 15% (-2bp), Greece 3.546% (+30.6bp), Portugal 2.432% (+14.3bp); Spain 2.408% (+13.2bp) and UK gilts 2.1280% (+3.7bp).