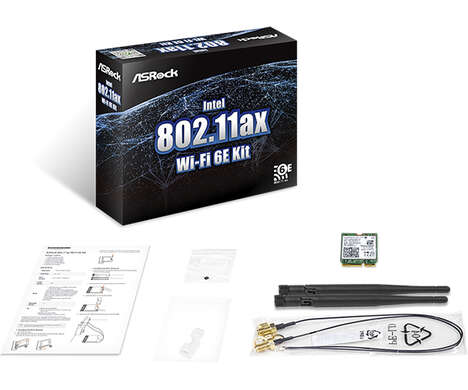 ASRock has announced the release of a new motherboard upgrade kit for customers who own existing current generation ASRock motherboards. The upgrade kit allows users to add Wi-Fi 6E to their motherboards. This not only provides a significantly faster Wi-Fi connection, but also the ability to activate Bluetooth 5.2.
This upgrade kit may save many ASRock motherboard owners the hassle of buying a new motherboard, especially given the fact that chipsets for future Intel and AMD processors will be backwards compatible with existing motherboards after a BIOS update.
The ASRock Upgrade Kit includes two antennas, two Wi-Fi antenna cables, a plastic cover, and an m.2 network card that will provide a secure and reliable connection for both Bluetooth wireless signals and Wi-Fi signals.
Image Credit: ASRock