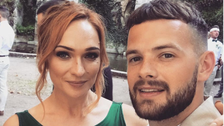 Singer Tom Mann says he's 'still in shock' after his fiancée Danielle Hampson died three weeks ago on the couple's wedding day.
"It's been almost 3 weeks since what will forever be the worst day of my life. Still in shock and still speechless – my beautiful Dani is an indescribable loss," the former X Factor star wrote on Instagram Story on Thursday.
"Nothing can be said or done," Mann said, thanking people for the "tremendous amount of love, kindness and support" he and the Hampson family have received.
"In these darkest times, it's extremely difficult to feel anything but sadness, let alone gratitude, but we found glimpses of the feeling of this union of love that came from afar for our Dani."
"I can't believe I'm writing these words but my dear Dani – my best friend, my everything and more, the love of my life – passed away in the early hours of Saturday, June 18th," he wrote during "Irreversible Grief." which he experienced.
"We never made it to the altar; or say our vows or dance our first dance, but I know you know you were my whole world and the best thing that ever happened to me, Daniella," he added, next to a black and white photo of Hampson and their son. "I will wear this ring that I should have always worn as a token of my unconditional love for you."
Hampson's father, Martin later published a tribute to his daughter a few days after her death, saying "those are words no parent should ever write."
"She was the beating heart of our family, a loving, successful, smart daughter who always put everyone before herself, and as a result everyone loved her," he added. "We are all devastated and heartbroken. People say the pain will subside with time, but as we are now, we are broken."