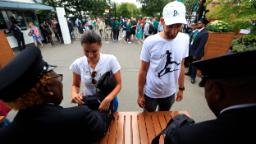 A quarrel that took place on the ground
grand slam
on Friday was dispersed by members of the London Metropolitan Police.
According to The Guardian
an alleged fight broke out in front of the fans and started when one worker accused a colleague of taking a three-hour break.
A Metropolitan Police spokesman told CNN: "At 2:00 pm on Friday, July 1st, officers on duty at the Wimbledon Tennis Championships were alerted to an altercation on the property.
"Law enforcement officers were present. Three men who worked at the event were arrested on suspicion of hooliganism. There were no reports of injuries.
"They were taken into custody and then released on bail until the end of July date."
CNN has reached out to Knights Group Security, which provides security, and Wimbledon for comment.
Knights Group Security Insider
said the Guardian
the fight was "awkward" and he added, "Fighting in front of the fans is not good. This damaged the company's reputation. I can't believe they did it."