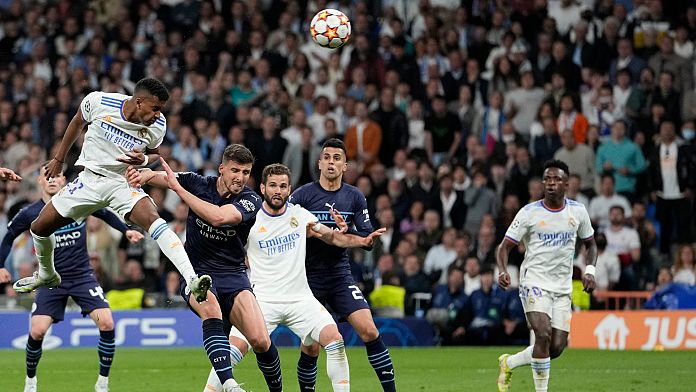 Real Madrid made a stunning comeback with their last breath, beating Manchester City to set up the Champions League final against Liverpool.
Josep Guardiola's team took a 4-3 lead in the first leg and looked in complete control when Riyad Mahrez gave them a 1-0 lead in the 73rd minute.
Manchester City have recalled attacking stars Mahrez Kevin De Bruyne and Gabriel Jesus to defend their two-goal supply.
But it was one of the Madrid substitutes who turned the situation on its head.
Brazilian Rodrigo scored a goal in the 90th minute, and a minute later turned the match with a total score of 5:5 into extra time.
Then, when Karim Benzema fell in the penalty area during a call from Ruben Dias at the start of extra time, the referee awarded a penalty. Real Madrid's prolific striker, who was in terrific form for the Spanish champions, scored into the bottom right corner.
Many Real Madrid fans lost hope.
Manchester City lead 1-0 that evening. "If you can! (Yes we can!)" the chants at the Santiago Bernabéu gradually died down.
As the match seemingly comes to a disappointing end for Real Madrid, some of their supporters have begun to make their way out. It seemed that this time there would be no magical night at the Bernabeu for the 13-time European champions.
"I didn't think we could do it again because we had problems," Real Madrid goalkeeper Thibault Courtois said. "We have already eliminated some of the top teams that have spent a lot of money trying to win the Champions League, but today it was more impressive because it happened in the last minutes."
Real Madrid have already made spectacular comebacks at the Bernabéu against Paris Saint-Germain in the round of 16 and Chelsea in the quarter-finals.
"I can't say we're used to this kind of life, but what happened today happened against Chelsea and also against PSG," Real Madrid manager Carlo Ancelotti said. "If you have to say why it is the history of this club that helps us to carry on when it seems we are gone."
Having done so again against City, Madrid booked their place in the final on May 28 in Paris against Liverpool, who took the lead after beating Villarreal on Tuesday. Madrid beat Liverpool in the 2018 final as the Spanish club claimed their record 13th title.
"We need to settle scores," Liverpool striker Mohamed Salah tweeted after Madrid's victory.
Guardiola regrets chance of success
The result was the end of Manchester City's last bid for their first Champions League trophy. Last year Josep Guardiola's team lost in the final against Chelsea.
"We were close, but in the end we couldn't reach[the final]," Guardiola said.
Minutes before the first goal, Rodrigo Ferland Mendy saved Madrid from conceding a second goal that could have secured City's qualification by kicking the ball off the goal line while tumbling backwards to prevent Jack Grealish's attempt.
Moments later, Madrid goalkeeper Thibault Courtois deflected Grealish's shot with the bottom of his boot.
Madrid looked beaten towards the end of normal time before Rodrigo scored his goals by two minutes. Riyad Mahrez gave City the lead in 73rd, but the Brazilian striker equalized in 90th and scored a header over a minute into stoppage time.
"Yes, we were close," Guardiola said. So before the first goal (for Real Madrid) we had two chances, especially this clear one with Jack (Grealish)… and at that moment we didn't feel like we were in trouble with the way they attacked ( ed.). (It) didn't happen. So they score at the end, and yes, they have done it many times in (their) history.
"I had defeats in the Champions League. I always had such hard defeats, Barcelona against Chelsea, when both games were exceptional and we couldn't reach the final. And… yes, it's hard for us, so we can't deny it.
"We didn't play very well in the first half. We haven't found our game, but that's ok. In this competition, this is normal. And the second half was much better. Much, much better. .. yes, we control (lead it). When we found the game, we came up with a subscription. Jack (Grealish) helped us control the game. But, unfortunately, we couldn't finish when we were around."