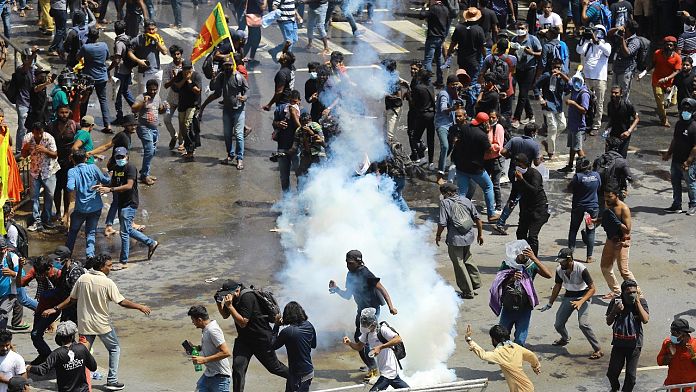 Thousands of protesters in Sri Lanka's commercial capital, Colombo, stormed the president's official residence and secretariat on Saturday amid growing public anger over the country's worst economic crisis in seven decades.
Several protesters with flags and helmets of Sri Lanka broke into the presidential residence, showed videos from the local news channel.
Thousands of people stormed the government district of Colombo, shouting slogans against the president and dismantling several police barricades to get to Rajapaksa's home, a witness told Reuters.
According to a witness, the police fired into the air, but were unable to stop the angry mob that surrounded the presidential residence.
Television footage also showed thousands of protesters breaking down the gates of the presidential secretariat on the seafront, where sit-ins have been held for months, and entering the premises.
Soldiers and police at both locations were unable to contain the crowd as they chanted slogans calling for President Gotabay Rajapaksa to step down.
Two Defense Department sources said President Rajapaksa was expelled from his official residence on Friday for security reasons ahead of a rally scheduled for the weekend. Reuters was unable to immediately confirm his whereabouts.
Prime Minister Ranil Wickremesinghe called an emergency meeting of party leaders on Saturday to discuss the situation and come to a quick decision, his office said. He also asked the Speaker to convene Parliament, the statement said.
According to a government source, Wickremesinghe was also moved to a safe location.
A Facebook live feed from the president's home showed hundreds of protesters, some wearing flags, filling rooms and hallways chanting anti-Rajapaksa slogans.
Hundreds also roamed the grounds outside the whitewashed colonial-era building. The security forces were nowhere to be seen.
At least 21 people, including two police officers, have been injured and hospitalized in the ongoing protests, hospital sources told Reuters.
The island of 22 million people is struggling with a severe foreign exchange shortage that has restricted imports of essential fuels, food and medicines, plunging it into its worst economic crisis since independence in 1948.
The crisis comes after COVID-19 hit the tourism-dependent economy and reduced remittances from foreign workers, and was exacerbated by the accumulation of massive public debt, rising oil prices and a ban on imports of chemical fertilizers last year that devastated Agriculture.
Many blame President Rajapaksa for the decline of the country. Mostly peaceful protests since March have demanded his resignation.
Despite severe fuel shortages that brought transport services to a halt, demonstrators filled buses, trains and trucks from several parts of the country to reach Colombo to protest the government's failure to protect them from economic collapse.
Discontent has escalated in recent weeks as the cash-strapped country cut off fuel supplies, leading to school closures and the rationing of gasoline and diesel for essential services.