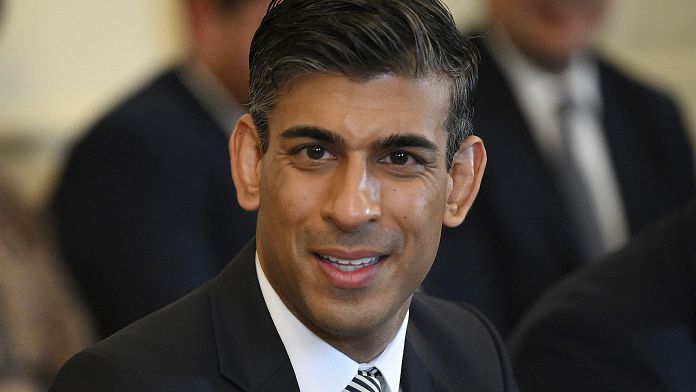 Several new contenders in the latest race for the British Conservative Party leadership threw their hats into the ring ahead of the weekend, opening the field to replace the outgoing Boris Johnson.
Former Chancellor of the Exchequer (Finance Minister) Rishi Sunak, whose resignation on Tuesday night, along with Health Minister Sajid Javid, caused a stir among others, is one of the favorites for the position.
On Friday, Sunak announced his leadership bid in a campaign video in which he vowed to confront difficult economic conditions "honestly, seriously and decisively" rather than placing the burden on future generations.
"Someone has to seize this moment and make the right decision," he said.
Former UK Equality Minister Kemi Badenoch added her name to the list of candidates on Saturday. She was one of nearly 60 MPs and aides who resigned this week to force Johnson out of office.
In an article in The Times, Badenoch called for change and said British opinion was "weakened by platitudes and empty rhetoric".
Conservative MP Tom Tugendhat and Attorney General Suella Braverman also made official nominations.
But Secretary of Defense Ben Wallace, who was seen as a potential strong contender, withdrew from the race.
Former Health and Foreign Secretary Jeremy Hunt, who lost to Johnson in 2019, was "almost certain" to run again, a source close to Hunt told British media.
Sunak is party favorite, poll says
The announcement of Rishi Sunak's candidacy was immediately supported by several MPs. He is also the preferred candidate among members of the Conservative Party, according to the latest poll, a quarter of them support him.
The former treasury secretary is followed by Foreign Secretary Liz Truss, who is supported by 21% of party members, according to an Opinium poll for Channel 4 News. Truss has yet to give her name.
Sunak was appointed Finance Minister in February 2020, replacing Sajid Javid, who stepped down just two months after a landslide Tory victory in December 2019. He has been lauded for his COVID-19 economic bailout package, including a costly job-saving program that averted mass unemployment. .
But it later faced criticism for not providing enough support to households. Revelations this year about the tax status of his wealthy, homeless wife and the fine he received for violating COVID lockdown rules undermined his position.
His tax and spending budget last year put the UK on track for its biggest tax burden since the 1950s, undermining his claims that he favors lower taxes.
Sunak voted for Brexit in the 2016 EU referendum. BUT report of the Center for European Reforms suggested in June that his latest tax hike "would not have been necessary if the UK had stayed in the EU (or in the single market and customs union)", arguing that the post-COVID recovery would have been less slow.
Enter Badenoch, Braverman and Tugendhat and exit Wallace.
Another potential strong runner dropped out of the race. Defense Secretary Ben Wallace tweeted Saturday that he would not run. Opinium's Tory membership poll ranked him third with 12% support.
Tom Tugendhat is Chairman of the Parliamentary Foreign Affairs Committee and a former soldier who fought in Iraq and Afghanistan. He was a constant critic of Johnson and would suggest a complete break with previous governments for his party.
He has never been in the cabinet and also opposes the prevailing trend of the Conservative Party that he voted to stay in the European Union.
In contrast, Suella Braverman advocated leaving the EU. She resigned from her junior post in then-Prime Minister Theresa May's government in protest of her proposed Brexit deal, saying she had not gone far enough in cutting ties with the bloc.
As Attorney General under Boris Johnson, Braverman came under fire from lawyers after the government attempted to break international law on post-Brexit trade rules in Northern Ireland.
She said her priorities as a leader would be to shrink the size of the state and cut spending to curb inflation, and also cited illegal migration and foreign courts.
"We need to solve the problems of the courts across the English Channel, we need to stop the interference of a foreign court in our internal affairs, we need to make sure that the possibility of Brexit is felt by everyone in this country, and finally, we need to get rid of all this "waking up" rubbish" , Braverman said in a TV interview.
Kemi Badenoch has held junior ministerial positions but has never served in the cabinet. A former Conservative member of the London Assembly and vice-chair of the party, she supported Brexit in 2016.
The schedule for the Conservative Party leaders' race is expected to be released on Monday, with the winner announced at the party's annual conference in early October.