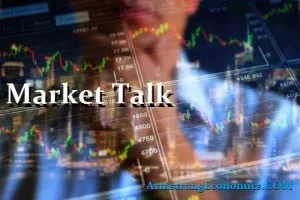 ASIA:
Japan's household spending unexpectedly fell in May, falling for the third straight month as a global chip shortage hurt car sales, a worrisome sign for the outlook for the world's third-largest economy. Households are also facing pressure from the sharp depreciation of the yen, which is pushing up the price of imported fuel and food at a time when consumer confidence still needs to fully recover from the effects of the coronavirus pandemic. Spending in May fell 0.5% from a year earlier, government data showed on Friday, due to lower spending on vegetables as well as cars, whose shipments were hit by shortages of chips and disruptions in the supply chain.
Today was a mixed day for major Asian stock markets:
The NIKKEI 225 rose 26.66 points, or 0.10%, to 26,517.19.
Shanghai fell 8.32 points or -0.25% to 3,356.08.
Hang Seng rose 82.20 points or 0.38% to 21,725.78.
The ASX 200 rose 30.00 points, or 0.45%, to 6,678.00.
Kospi rose 16.34 points or 0.70% to 2350.61.
SENSEX increased by 303.38 points or 0.56% to 54,481.84 points.
Nifty50 increased by 87.70 points or 0.54% to 16,220.60.
Today was a mixed day for the major Asian currency markets:
AUD/USD rose 0.00079, or 0.12%, to hit 0.68538.
NZDUSD rose 0.0015 or 0.24% to hit 0.61900.
USDJPY rose 0.146, or 0.11%, to hit 136.121.
USDCNY edged down 0.00343 or -0.05% to hit 6.68877.
Precious metals:
Gold has risen in price by $4.25/t. or 0.24% up to 1743.86
Silver has risen in price by $0.117/t. ounces or 61% up to 19,310
Some economic news from last night:
Japan:
Household spending (YoY) (May) increased from -1.7% to -0.5%
Household spending (MoM) (May) decreased from 1.0% to -1.9%.
The adjusted current account decreased from 0.51 trillion to 0.01 trillion.
Bank lending (YoY) (June) increased from 0.7% to 1.3%
The nsa current account (May) decreased from 0.501 trillion to 0.128 trillion.
Some economic news for today:
Japan:
The current Economy Watchers index (June) fell from 54.0 to 52.9.
India:
Foreign exchange reserves in US dollars decreased from 593.32 billion to 588.31 billion US dollars.
EUROPE/EEA:
Hedge funds performed negatively in June, resulting in losses of nearly 6% this year as market volatility accelerated, a report by hedge fund data provider HFR showed on Friday. The fund's weighted composite index fell 3.08% last month. All four different categories of hedge funds tracked by HFR — equities, events, macro and relative value — posted losses in June. However, hedge fund macros remain in positive territory in the first half of the year, gaining 8.98%.
Europe's major stock markets had a green day:
CAC 40 increased by 26.43 points or 0.44% to 6033.13.
The FTSE 100 rose 7.16 points, or 0.10%, to 7,196.24.
The DAX 30 rose 172.01 points or 1.34% to hit 13,015.23.
Today was a mixed day in the major currency markets in Europe:
EURUSD fell 0.00063 or -0.06% to hit 1.01607.
GBPUSD fell 0.00028 or -0.02% to hit 1.20214.
USDCHF rose 0.00477 or 0.49% to hit 0.97847.
Some economic news from Europe today:
France:
France's current account (May) fell from -2.70 billion to -3.90 billion.
French exports (May) increased from 47.1 billion to 47.8 billion.
French imports (May) increased from 59.8 billion to 60.8 billion.
France's trade balance (May) fell from -12.7 billion to -13.0 billion.
Italy:
Italian industrial production (MoM) (May) fell from 1.4% to -1.1%.
Italian industrial production (YoY) (May) fell from 3.9% to 3.4%.
USA/AMERICA:
The June jobs report showed a strengthening job market after wage bills rose by 372,000 people, according to the Bureau of Labor Statistics. Analysts had expected growth of just 250,000 people. The separate calculation, which includes outcasts and part-time workers, also fell from 6.7% to 7.1%. The current US unemployment rate remains unchanged at 3.6%.
In recent months, the healthcare sector has seen a massive increase of 77,800 job openings leading to an increase in jobs, followed by professional and business services with an increase of 74,000 and leisure and hospitality with an increase of 67,000. Transport and warehousing (35,500), manufacturing (29,000), information (25,000), wholesale (16,4000), retail (15,400), construction (13,000) and mining (6,000) also increased . The only sector that declined was the public sector, which saw a 9,000 decline due to a decline in federal government employment.
US Market Closing:
The Dow dropped 46.4 points or -0.15% to 31,338.15.
The S&P 500 was down 3.24 points, or -0.08%, at 3899.38.
The Nasdaq rose 13.96 points, or 0.12%, to 11,635.31.
Russell 2000 fell 0.24 points or -0.01% to 1769.36.
Closing the Canadian market:
The TSX Composite was down 40.31 points or 19,022.86.
The TSX 60 edged down 2.15 points or -0.19% to hit 1155.66.
Brazil Market Closing:
Bovespa fell 440.78 points or -0.44% to 100,288.94.
ENERGY:
Oil markets have had a mixed day today:
Crude oil rose by $1.7/bbl. or 1.65% up to 104,430.
Brent rose by 2.1 dollars per barrel. or 2.01% to 106.75.
Natural gas was down $0.147/mbtu or -2.33% to 6.1500
Gasoline rose $0.0305/gallon, or 0.89%, to $3.4509.
Heating oil fell $0.0313/gal or -0.85% to $3.6426.
The above data was collected around 12:36 pm EST on Friday.
Commodity growth leaders: cotton (4.61%), corn (3.41%), wheat (5.70%) and palladium (8.45%).
The main losers were copper (-1.59%), zinc (-0.82%), coffee (-2.35%) and natural gas (-2.33%).
The above data was collected around 12:53 pm EST on Friday.
BONDS:
Japan 0.244% (+0 bp), US 2 3.11% (+ 0.066%), US 10 3.0953% (+ 8.73 bp); US 30's 3.27% (+0.073%), Bunds 1.347% (+4.5 bp), France 1.8840% (+3.1 bp), Italy 3.382% (+0.5 bp), Turkey 18.15% (-2 bp), Greece 3.681% (+ 15.4 bp), Portugal 2.435% (+3.6 bp); Spain 2.423% (+2.2bp) and UK gilts 2.2280% (+10bp).