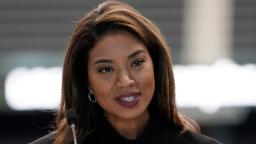 At a press conference at Allegiant Stadium in Las Vegas for the job announcement, Morgan was asked what it means to her to make league history.
"I've been first in the other positions I've held, whether it's the City Attorney or the Gambling Control Board," Morgan said. "I definitely never want to be last and I want to get to the point where there are no more firsts… I would take my hat off to all… previous women who were leaders and visionaries if I could be an inspiration , to help or open doors for any other woman or girl, then this is an incredible achievement for me.
"I don't lose sight of the importance and impact of this. I know that sports is a male-dominated industry, as is gaming, and we need to continue to break down those barriers."
Raiders owner Mark Davis touted her experience, integrity, and passion for the Las Vegas community.
"From the moment I met Sandra, I knew she was a force to be reckoned with," he said in a press release. "We are very lucky to have her at the helm."
CNN has reached out to the NFL for comment.
The Las Vegas Review-Journal received a letter from the organization's employees announcing the hiring.
"I'm thrilled to be joining you as we enter one of the most exciting moments in our organization's history," Review-Journal quoted Morgan as saying in the letter. "I look forward to meeting each of you in person in the coming weeks."
In May, Davis fired the then team president.
Dan Ventrell
and did not provide a reason for the dismissal.
However, in a statement sent via text message to the Review-Journal, Ventrell said he was fired in retaliation for informing the league of alleged complaints that Davis created a hostile work environment, as well as other potential wrongdoings he said , Davis declined. When asked about Ventrell's claims by the Review-Journal at the time, Davies said he was aware of them and would not comment. The NFL said it would look into the allegations.
Last year, head coach of the Raiders
John Gruden
resigned after reports surfaced that he used homophobic, racist, and misogynistic language in emails while working as an ESPN analyst. He apologized, saying he "never meant to offend anyone."
In her letter, Morgan touched upon organizational issues, according to the Las Vegas newspaper.
"Let me be clear: I'm not here to avoid or circumvent problems or issues that need to be addressed," the Review-Journal quoted her as saying. "I thought long and hard about joining you, and I did it because I believe in the promises of the Raiders. Most importantly, I believe in your core values ​​of honesty, community, and commitment to excellence. I expect you to embody them and make me responsible for the same."
Historical innovations are not new to the Raiders. The Raiders became the first team in the modern NFL to hire a black head coach when they hired Art Shell in 1989. In 1997, by hiring Amy Trask, they became the first team to hire a woman as an executive director.
Jason Wright
, hired in 2020 by the Washington Commanders, served as the NFL's first black team president. Earlier this year, the Baltimore Ravens hired Sasha Brown as their president.
Morgan is the former chairman of the Nevada Board of Gaming Control, appointed in 2019. She was also the first black woman to hold the position.