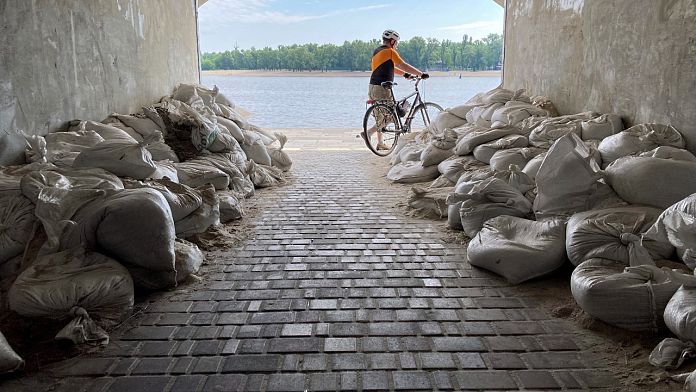 1. Claims and counterclaims as strikes continue in the east and south
Ukrainian Army Headquarters reported numerous Russian bombing raids, but almost no ground attacks by Moscow forces on Sunday, as they had the day before.
Russian rockets hit the town of Chasov Yar in eastern Ukraine, destroying a five-story residential building and killing at least 15 people, Ukrainian officials said Sunday. Read more here.
Kyiv said it had carried out strikes on two Russian "command posts" and warehouses in the southern part of the Chernobaevsk region. Ukrainian forces also claimed responsibility for the attack on a Russian base in the occupied Kherson region, also in the south, without giving details.
In Kharkiv, the country's second-largest city, Governor Oleg Sinegubov said on Telegram that more rocket attacks hit an "educational institution" and a residential building, injuring one person.
Other Russian strikes were reported near Seversk and Slavyansk in the east, and in the Mykolaiv region in the south.
"High-precision ground weapons hit the point of temporary deployment of the artillery unit of the Armed Forces of Ukraine and the ammunition depot on the territory of a ceramic factory in the city of Slovyansk," the message says.
"Up to 100 people were killed", "more than 1000 artillery shells for American-made M777 howitzers and about 700 rockets for the Grad MLRS" were destroyed. Claims cannot be verified.
Rodion Mirochnik, a spokesman for the separatist Luhansk Republic in Moscow, said via Telegram on Sunday morning that in the Donetsk region "an offensive has been launched against Seversk from the north" and that the city of Grigorovka was "captured after fighting."
"Our troops continue to fight to liberate Serebryanka," he added. (AFP)
2 Russian grain blockade may have contributed to Sri Lanka unrest – Blinken
According to US Secretary of State Anthony Blinken, Russia's restrictions on Ukrainian grain exports may have contributed to the unrest in Sri Lanka, said US Secretary of State Anthony Blinken, who expressed concern that they could provoke other crises.
"We see the consequences of this Russian aggression everywhere. Perhaps she influenced the situation in Sri Lanka. We are concerned about the consequences for the whole world," Blinken said at a press conference in Bangkok.
Echoing a request he made several times, Blinken urged Russia to release about 20 million tons of grain from Ukraine, which Moscow invaded in February.
"We are seeing a growing food shortage around the world, which has been greatly exacerbated by Russian aggression against Ukraine," Blinken said.
He added that this has also affected Thailand, where fertilizer prices have "snapped" due to the blockade.
Sri Lanka was engulfed in turmoil caused by serious riots caused by severe shortages of food, medicine and fuel. The president agreed to step down after protesters stormed his official residence on Saturday.
Russia has said it will allow Ukrainian food ships to leave if the Ukrainian army clears its ports, but that option has been rejected by Kyiv, which fears for the security of its Black Sea coast. (AFP)
German Welt paper stamp blocked in Russia
The website of the German newspaper die Welt has been blocked in Russia and added to a growing list of sites banned by Roskomnadzor, Russian agencies said on Sunday.
According to the source, the blocking followed a request from the prosecutor's office.
The site could no longer be opened on phones and computers, AFP journalists in Russia said.
With the beginning of the Russian offensive in Ukraine, the German newspaper began to publish materials in Russian, while most of the independent information in Russia was subject to repression.
The paper also briefly hired Russian journalist Maria Ovsyannikova after she stormed the set of a pro-Kremlin television news program with a poster against the Russian offensive in Ukraine. (AFP)
Russia took the title of Elena Rybakina at Wimbledon
The Russian Tennis Federation hastened to declare Elena Rybakina "our product" in her fight for the women's title at Wimbledon.
They then praised her training program in the country after she became a champion representing Kazakhstan.
"After all, this is a Russian school. She played with us here for a long time, and then in Kazakhstan, "President of the Russian Tennis Federation Shamil Tarpishchev told the Championship sports website after Rybakina beat Ons Zhaber on Saturday with a score of 3:6, 6:2, 6:2 .
Rybakina, 23, was born in Moscow and played in the Russian system until 2018, when financial problems led to a change of citizenship.
There was no official Kremlin reaction to Rybakina's Wimbledon success, but some commentators called her victory a Russian achievement and a symbolic snub to the All England Club, which banned players from Russia and Belarus from Wimbledon because of Russia's invasion of Ukraine.
Some Russian state media emphasized Rybakina's Moscow roots, while others preferred to simply refer to her as "a representative of Kazakhstan". (AP)
5. French Energy Switches to Oil Fearing Russian Gas Shutoff
France's energy-intensive companies are speeding up contingency plans and converting their gas-fired boilers to run on fuel oil in a bid to avoid disruption if any further reduction in Russian gas supplies results in a power outage.
Gathering at a business and economics conference in Aix-en-Provence in the south of France this past weekend, several top executives said they were preparing for possible power outages.
In June, Russia reduced gas flows through the Nord Stream 1 gas pipeline, the main gas delivery route to Western Europe, to 40% of capacity. Politicians and industry are concerned about further supply restrictions related to Russia's invasion of Ukraine.
Across Europe, industry is turning to more polluting fuels than gas as it prioritizes reducing the cost to the economy of business disruption and rising energy prices over long-term goals of moving to zero-carbon fuels.
French finance minister Bruno Le Maire told senior executives at the conference that it would be irresponsible not to prepare for a deficit.
"Let's get ready to turn off Russian gas," he told them. "Today, that's the most likely scenario."
France uses nuclear power for about 70% of its electricity, meaning it is far less directly dependent on Russian gas than neighboring Germany.
However, state-controlled electricity producer EDF is struggling to keep up with France's needs due to outages at its aging power plants, putting pressure on the rest of the energy sector. (Reuters)
6. Canada will return Nord Stream turbines to Germany
Canada has decided to return turbines for the Russian Nord Stream gas pipeline to Germany, despite sanctions against Moscow.
Kyiv called on Germany "not to succumb to the Kremlin's blackmail." The turbines are being serviced at Siemens workshops near Montreal.
The Russian gas group Gazprom cited repairs as the reason for the reduction of its supplies to Germany via Nord Stream in mid-June.
"Canada will grant Siemens Canada a time-limited revocable license to return refurbished Nordstream 1 turbines to Germany, helping Europe access reliable and affordable energy," Natural Resources Minister Jonathan Wilkinson said in a statement.
The minister accused Russian President Vladimir Putin of wanting to "sow division among the allies."
Canada also announced its intention to extend economic sanctions against Russia to industrial production.
"The new sanctions will apply to land and pipeline transport, as well as to the production of metals and vehicles, computers, electronic and electrical equipment and machinery," Foreign Minister Mélanie Joly said. (AFP)