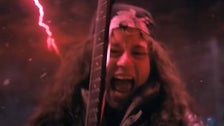 Munson, the metal character introduced in the fourth season, may not have gotten justice on the show given that the community mistakenly believes him to be the killer he died trying to save.
But the band behind "… And Justice for All" performed with great honors.
In a social media post, Metallica, wearing signature Eddie Hellfire Club t-shirts, played along to the instantly iconic "Master Of Puppets" scene from the season finale.
"Eddie… this is for you!" the band wrote – a reference to Eddie's line at the beginning of the song:
On Twitter, the Stranger Things writers also shared a clip of Quinn rehearsing for the big moment:
Last month, Metallica also posted a video to YouTube for the song "Master Of Puppets" from Prague.
"Have you heard any cool songs lately?" the group wrote in an Instagram clip of the video: