ADB and JICA are currently funding extensive modernization of the country's railways and urban public transport systems.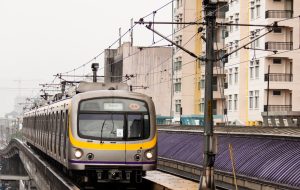 Light rail line in Manila, Philippines.
Credit: Depositphotos
On June 9, the Asian Development Bank (ADB) approved up to 4.3 billion dollars loans for the southern leg of the giant North-South commuter rail project in the Philippines. The railway line is being built in the form of three segments with a total length of 147 kilometers. It will start in the north near Clark International Airport before passing through downtown Manila before continuing its southern end at Calamba. This follows ADB approval $2.75 billion loan in 2019 for the northern section under construction.
The total cost of the northern and southern segments alone will be $14.2 billion, of which ADB has agreed to cover about half through loans, and the Japan International Cooperation Agency (JICA) will receive another $3.68 billion. Separately, JICA is funding the construction of the middle section, which will connect Tutuban to Mololos. The scope of this project is enormous and, according to ADBrepresents "the largest bank infrastructure financing in the Asia-Pacific region to date."
But this $14 billion mega-rail project is only part of the story. One of the major economic policy programs under the Duterte administration was to increase spending on infrastructure, including Manila's urban transportation system, which is undergoing major upgrades. For nearly two decades, public transport in Manila has been served by three lines that have experienced service and maintenance issues. These lines are being upgraded and expanded, and two new lines, MRT 4 and 7, are approved or under construction.
Even more ambitious is Metro Manila Metro, a 355 billion peso ($6.3 billion at current exchange rate) mega project funded by JICA. Dubbed the "Project of the Century", it will be a major upgrade to Manila's urban transportation system and is quite an impressive engineering feat. In addition, the city authorities of the prestigious Makati district entered into an agreement with a private developer for the construction own metro system. The Makati project primarily involves Chinese financiers and construction companies.
Taken together, the commitment to invest in public transport infrastructure in and around metro Manila is real and the scale is very large. It resonates just as ambitious public transport projects in Bangkok, Hanoi, Ho Chi Minh City and Jakarta, and it is clear that there is a lot of construction and investment in the region aimed at the transit sector. But there are a few things that catch my eye about how this is being implemented in Manila.
First, almost all of these projects are supported by ADB or JICA. Apart from the Makati project, which is a local government initiative, China's role is relatively small compared to Japan's. This highlights the fact that while China's Belt and Road Initiative often makes headlines, Japan's influence when it comes to funding infrastructure in the region can be less visible, but often more significant.
I think it's also worth mentioning that a massive public transit upgrade for Manila and the surrounding area has been in some stage of planning and development for decades. At some point a few years ago, the government signed contracts with Chinese contractors to finance and build sections of the North-South Commuter Railway, but deal fell apart and was cancelled.
The fact that these projects moved forward and overcame numerous political, legal, logistical and financial hurdles that hindered previous attempts helps, I think, explain why Duterte remained widely popular with the Philippine electorate despite his well-known shortcomings and contradictions. His administration has implemented several major infrastructure projects where others have failed.
The new president, Ferdinand Marcos Jr., would probably like his economic policies to be seen as a continuation of these efforts. But in a sense, Duterte has done the easy part of the job, exploiting the geostrategic competition between China and Japan during times of loose monetary policy to get funding for big projects. Marcos Jr. can find its role – to bring these huge and complex projects to completion, repaying the obligations assumed to finance them at a time of high inflation and when global monetary conditions tighten – a little tighter.