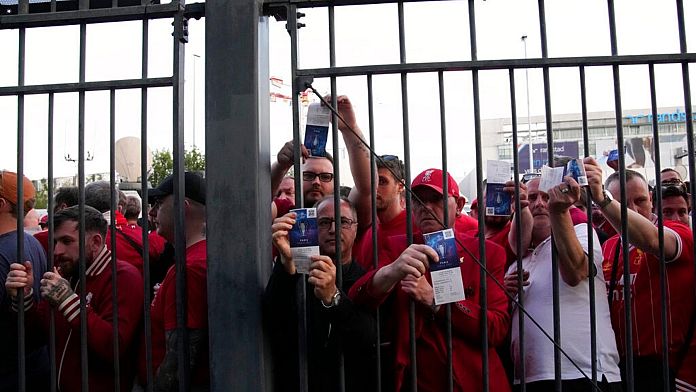 An official French report on the chaotic scenes at the UEFA Champions League final in Paris in May revealed a "series of irregularities" by the French authorities.
French police fired tear gas at Liverpool fans who flocked to the stadium but were unable to attend their team's game. Several Liverpool supporters were also robbed or beaten by local gangs. , but the surveillance footage of the attacks has been deleted.
Laurent Lafont, co-chair of the French Senate commission on culture that compiled the report, outlined a number of setbacks before the match, saying that the authorities acted on their own plans without much coordination, and that there were "failures" in both the execution and preparation of the event.
French Interior Minister Gérald Darmanin initially blamed Liverpool fans with fake tickets for the chaotic scenes, saying 35,000 fans showed up at the Stade de France with fake or unmarked tickets. However, senators from the culture committee criticized his position, saying that it "does not allow our committee to fully understand what happened."
"Things didn't turn out well because Liverpool fans accompanied their team," Laurent Lafont said.
François-Noël Buffet, the report's other co-chair, called Darmanin's initial analysis "partial and inaccurate" that "does not correspond to the truth".
"It is not fair to try to blame the Liverpool fans for the riots, as the Home Secretary did, in order to divert attention from the state's failure to adequately manage the crowds present and stop the actions of several hundred aggressive and coordinated offenders. ", the message says.
One of Liverpool's main fan groups, Spirit of Shankly, welcomed the report but still called on the French government to apologize.
"The Senate sent a clear message of support to those fans who attended the match, calling it a 'fiasco' and stating: 'You didn't cause problems at the Stade de France,'" the group said in a statement. said in a statement.
"The Spirit of Shankly would like to thank the Senate both for accepting the fans' testimony and for exonerating them of any responsibility. However, the problem of the constant repetition of lies remains.
Darmanin apologized for the "disproportionate" use of tear gas, but continued to blame Liverpool fans.
official report of deputies made 15 recommendations to chaotic scenes to avoid similar problems in the future, including obliging event organizers to save video surveillance images for one month after that; and make it mandatory to use anti-forgery tickets.
The senators said that even if tens of thousands of supporters who came used duplicate tickets, "this failure is due to the decisions taken by the police prefecture of Paris."
France is also set to host the 2023 Rugby World Cup and the 2024 Olympics.