From Article IV consultations: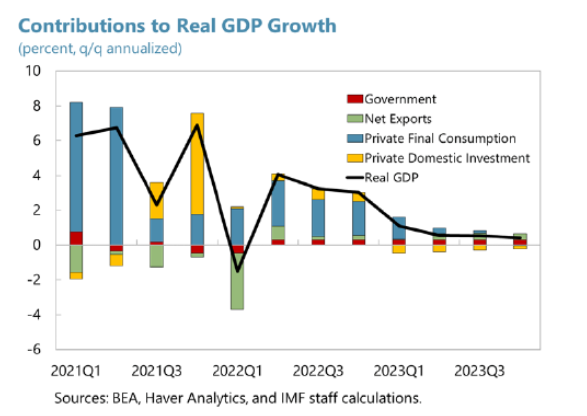 Source: IMF, U.S. Article IV Consultation Report, July 2022.
The sharp recovery in GDP in the second quarter is not in line with current forecasts. The large change in the contribution of net exports explains the resumption of projected growth from large negative to slightly positive (in a mechanical sense). The report notes:
Overall, the growth rate is expected to slow to 0.7% in Q4/Q4 by the end of 2023 and then gradually pick up until 2024. The US is expected to narrowly avoid a recession. However, the risk of the economy stalling and slipping into a short-term recession is significant. In particular, if the economy is hit again by a negative shock, the projected slowdown is likely to turn into a short-term recession. PCE inflation is expected to decline steadily as activity slows and supply-demand imbalances are remedied, hitting 2 percent year-on-year by the end of 2023.
Figure 1 below shows the IMF forecast of 2.2% for Q4/Q4. 2022 (which is decrease from the forecast of 2.9% at the end of the team's visit last month) compared to other forecasts and potential GDP.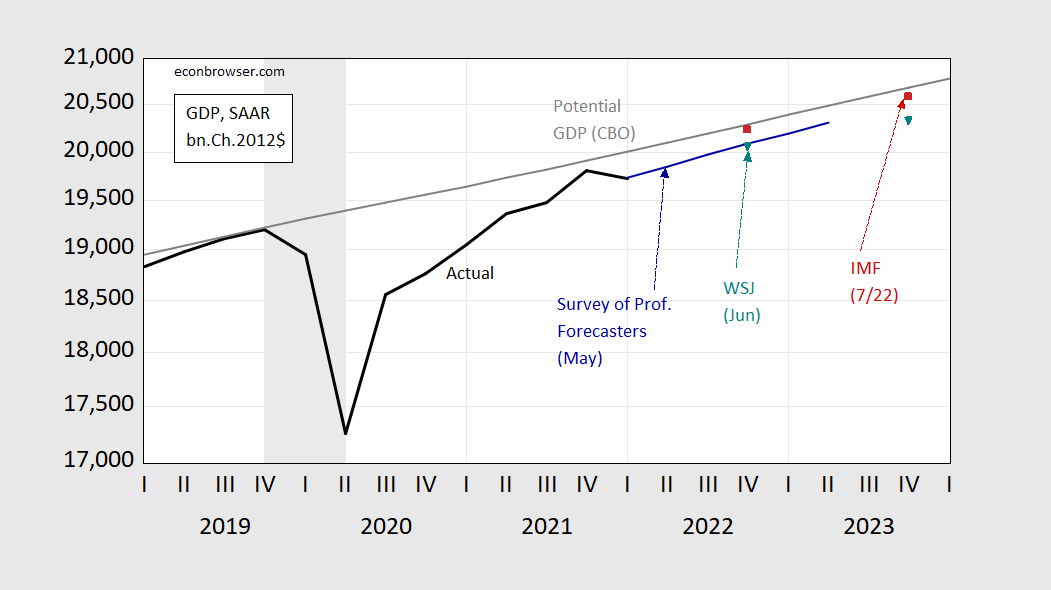 Figure 1: GDP (black), potential GDP (grey), May Survey of Professional Forecasters consensus (blue), June WSJ poll average (teal), and IMF Article IV consultation forecast (red), all in billions of US$, 2012 ., SAAR. Peak-to-trough dates as determined by the NBER are in grey. Source: BLS, CBO, Philadelphia Fed, WSJ (June poll), IMF, NBER and author's calculations.
The IMF forecast – in terms of level – is more optimistic than the June WSJ consensus, as well as the consensus of the May survey of professional forecasters.