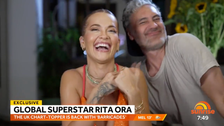 Producer Taika Waititi decided to arrange a chaotic guest during his girlfriend Rita Oralive interview with australian morning show"Sunrise"On Tuesday.
Ora was there to promote her latest single "Barricades" and act as a coach on The Voice in Australia when the director of Thor: Love and Thunder jumped into the frame and started dancing.
"Taika, get out from under my shot," Ora said, laughing.
After Ora asked him to come back, Waititi said, "Hi, I can't hear you. I love Sydney."
Then he jumped clumsily over the frame like jojo rabbit.
While the two haven't confirmed their engagement, it seems – at least from the clip above – they're as in love as two pirates are with one of Waititi's recent projects.
In short, they are adorable.