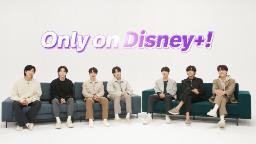 In an announcement published first by CNN Business on Monday, the entertainment giant said it would be adding new original shows featuring members of the South Korean pop group to Disney+.
This will lead to five new titles with HYBE, the management company of BTS. The firm was previously known as Big Hit Entertainment.
At least two new films will be filmed with the entire band, including a specially taped concert in Los Angeles and a behind-the-scenes documentary series. Disney expects the latter to debut next year.
In a recorded video message shared with CNN Business, the group said they look forward to showing fans "a closer and more personal side of us."
The new collaboration with Disney reflects this. The company has stated that one of the upcoming projects will be a reality show in which V, the star of BTS, will go on vacation with other Korean celebrities.
The documentary about the group will also look into their daily lives "as they prepare for their second chapter," Disney and HYBE said in a joint statement.
"This collaboration reflects our creative ambition to work with iconic content creators and top stars in Asia Pacific so that their talents can be used by a wide audience in multiple ways," said Jessica Kam-Engle, Head of Disney Content for Asia Pacific. . statement. "We believe these new titles will appeal to consumers around the world and look forward to bringing more music content to our service."
At the time, the Hollywood giant said it was ordering new shows from South Korea, Japan, Australia, Taiwan and Indonesia. Many programs will be presented in local languages, from Indonesian to Chinese.