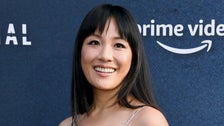 Actor Constance Wu revealed on Thursday that she almost committed suicide in 2019 after a widespread social media reaction to series of tweets she wrote, expressing her disappointment at ABC's renewal, "Fresh off the boat", on which she starred at one time.
In a statement announcing her tentative return to Twitter, the Hustlers and Crazy Rich Asians star said she was "afraid to go back to social media because I almost lost my life because of it."
"After a short break from Hollywood and fate therapy, I feel well enough to risk coming back here (at least for a little while). And although I'm scared, I decided that in front of a 3-year-old self, I muster up the courage and share my story so that it can help someone with their own, "wrote Wu.
In May 2019, Wu, who was then starring on ABC's groundbreaking sitcom Fresh Off the Boat, posted several tweets expressing his disappointment that the network had renewed the show for what became its final season. "So upset right now I'm literally crying," she said in a now-deleted tweet on the day the network made the announcement.
After much outrage on social media, Wu later explained that her frustration was that the show's renewal meant she "had to drop another project that I was really into," she tweeted. "So my alarmed responses on social media were more about that other project than FOTB."
On Thursday, she detailed that among the "harsh" social media comments she received in response to her tweets were messages "from an Asian actress" who told Wu, "I've become a disease of the Asian American community. "
"I started to feel like I didn't even deserve to live anymore," Wu wrote on Thursday, describing how the messages made her feel like a "shame" to Asian Americans.
"Looking back, it seems surreal that a few DMs convinced me to end my life, but that's exactly what happened," she continued. "Fortunately, a friend found me and rushed me to the emergency room."
Wu described how the situation "made me reevaluate a lot of things in my life," including giving up social media and putting her career on hold to prioritize her mental health. She urged compatriots of Asian descent to talk more about mental health and not avoid "the more vexing issues in our community."
The actress, who currently stars in the Amazon series Terminal List, also revealed that she wrote a book called Making a Scene "to help people talk about uncomfortable things in order to understand them." with him, and open the way to healing."
"If we want to be seen, Indeed seen … we must let all to be noticed, including those parts that we fear or are ashamed of — parts that, however imperfect, require care and attention," she said. "And we need to stop beating each other (and ourselves) when we do that."