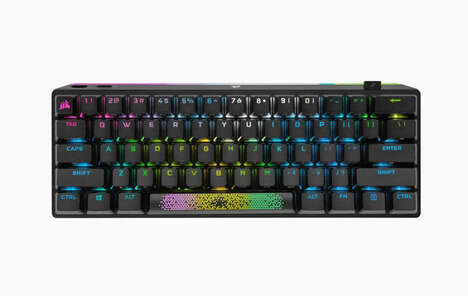 The Corsair K70 PRO MINI WIRELESS Keyboard is a mechanical peripheral designed with performance and performance in mind to meet the needs of mobile device users.
The keyboard is 60% larger than the full-size alternative and features Slipstream Wireless technology to connect to PCs, Macs, or even gaming consoles. The peripheral also features Bluetooth connectivity for connecting to smartphones and tablets, while wired mode promises lightning-fast performance that's up to eight times faster than standard gaming keyboards.
The Corsair K70 PRO MINI WIRELESS keyboard features 360-degree RGB LightEdge technology that brightens the environment around the perimeter of the peripheral. The internal battery is rated for 32 hours of use on a single charge with the lights on or up to 200 hours with the lights off.