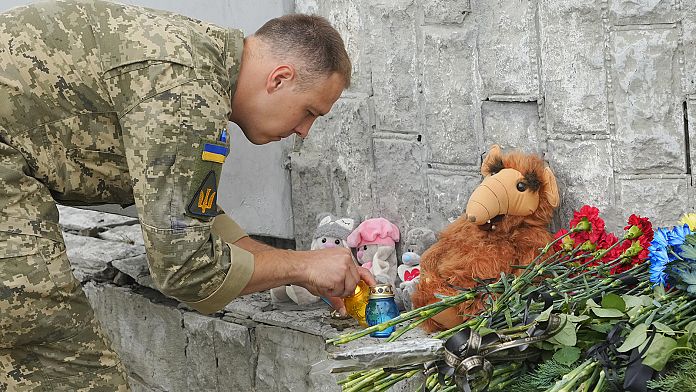 Air raid sirens sounded over Kyiv on Saturday as Russia stepped up its long-range bombardment of Ukrainian cities, which has killed at least 34 people and injured dozens over the past three days.
Late Friday evening, Russian rockets hit the city center of Dnipro, killing three people and injuring 15, regional governor Valentin Reznichenko said on Telegram.
According to Reznichenko, the missiles hit the industrial plant and the street next to it. Footage shared on social media shows thick black smoke rising from buildings and burning cars.
The Ukrainian Air Force said the attack was carried out by multiple Kh-101 cruise missiles fired from Tu-95MS strategic bombers over the Caspian Sea. According to him, four incoming missiles were intercepted.
One of the dead was a bus driver who had just finished work and was returning to the depot when a rocket hit him, city council deputy Ivan Vasyuchkov said.
The Ministry of Emergency Situations said that two cars burned down, another 10 were damaged. The rocket attacks also caused a fire at the plant and shattered windows in nearby residential buildings.
Airstrikes were also reported against Kremenchuk, another city on the Dnieper River south of Kyiv.
President of Ukraine Volodymyr Zelensky urged everyone to listen to air raid sirens and seek shelter.
"The occupiers understand that we are gradually becoming stronger, and the goal of their terror is very simple – to put pressure on us, put pressure on our society, intimidate people, inflict maximum harm on Ukrainian cities, at least while Russian terrorists are still able to do this," he said in a statement. his nightly video message to the nation.
Eight people were killed and 13 injured in a series of shelling in 10 locations in the eastern region of Donetsk, Governor Pavel Kirilenko said in a TV interview.
On Thursday, Kalibr cruise missiles launched from a Russian submarine in the Black Sea hit an office building in Vinnitsa, a city of 370,000 people about 200km southwest of Kyiv.
Kyiv said the strike killed at least 23 people and injured dozens.
The Kremlin's military campaign has been focused on the Donbass in eastern Ukraine, but Russian forces have been striking elsewhere in the country in a relentless quest to retake territory from Ukraine and soften the morale of its leaders, civilians and military personnel as war approaches. five month mark.