NEWNow you can listen to Fox News articles!
A series of farmer-led demonstrations against the government's climate rule in the Netherlands could be the start of a global movement, according to experts interviewed by Fox News Digital.
In June, the Dutch government released a plan to reduce nitrogen emissions, mainly targeting the country's agriculture, which accounts for a large share of such emissions, according to a report by the USDA's Foreign Agricultural Service (FSA). The government, however, has explicitly acknowledged that "not everyone has a future" for farmers. continue your business under the offer.
DUTCH FARMERS COLLECT 'FREEDOM CONVOYS' AGAINST GOVERNMENT'S STRICT ENVIRONMENTAL REGULATIONS
In response, farmers across the country have reportedly taken to the streets in recent weeks, blocking roads to airports and delivery to food warehouses. A State Department spokesman said in a statement to Fox News Digital that the US is monitoring the situation and urging both sides to reach an agreement as soon as possible.
"I really understand their anger," Marcel Krok, a Dutch science writer and co-founder of the Climate Intelligence Foundation, told Fox News Digital. "Farmers are also angry because they say, 'We are the only sector that gets all the blame.' What about industry? What about movement? Maybe we should just ban all cars in the Netherlands because they also throw away [nitrogen]. "
"In practice, this plan means that in some areas, farmers must reduce nitrogen emissions by 70%," he continued. "That means they just have to leave."
DUTCH POLICE SHOT AT TRACTOR DURING FARM PROTEST NIGHT
The proposal to drastically cut nitrogen emissions follows a 2019 Dutch court decision forcing the government to take more aggressive measures to curb nitrogen emissions. However, the Netherlands has been tightly regulating emissions from agriculture since the 1990s, and farmers largely comply with such regulations, Krok said.
The Netherlands emits large amounts of nitrogen due to the large agricultural industry, which accounts for about 87% of the country's annual ammonia emissions (124 million kg), according to the FSA report. The country exported a whopping $26.8 billion worth of food despite its relatively small population compared to other major producers, according to the World Bank.
"It's not very rational to hold back on Dutch agriculture if you realize that they have the highest yield per acre in the world and therefore the environmental pressure per kilogram of food is lower than anywhere else," Simon Roosendaal, Dutch, told Fox. journalist and chemist. News Digital. "So, in a way, Dutch agriculture benefits both climate and biodiversity."
The experts also argued that farmers' actions in the Netherlands mimicked previous protests around the world and could herald similar uprisings against government abuses. For example, the so-called "yellow vest" movement in France began as a protest against higher nationwide taxes on fuel.
BID EPA PROPOSES REGULATION WHICH FARMERS WARN WILL INCREASE FOOD PRICES
"It's literally communism," Dutch political commentator Eva Vlaardingerbrook told Fox News Digital. "If the state says: "We are going to take your private property for the greater good," then the state has the prerogative to create crises to deprive you of your rights. That's what's going on here."
Vlaardingerbrook said the farmers' response to the government's actions should "absolutely" be a warning to other governments with similar goals.
"This will definitely affect ordinary civilians," she continued. "This is part of the global agenda, so everyone around the world, especially Western countries, should know that this is not just about the Dutch government. It's part of the 2030 agenda, it's part of the great reset.
According to Benny Peizer, director of the London-based Global Warming Policy Foundation, similar protests could soon occur in the UK and parts of the European Union, where natural gas and energy prices are close to historical levels. Price hike expected in the UK send 24% of householdsor about 6.5 million households, in fuel poverty.
"The problem is that despite the growing energy crisis in Europe, some governments are still prioritizing a climate agenda that makes energy even more expensive or forces farmers to close their farms because it is still a top priority for a number of governments. Peizer told Fox News Digital in an interview. "This whole green agenda is a huge burden."
"The Dutch are going crazy about this policy because it is killing their business and the farmers are fighting back," he said. "This is what will happen across Europe. I have no doubt that with the onset of winter, millions of families will no longer be able to heat their homes or pay their bills, and there will be unrest all over Europe."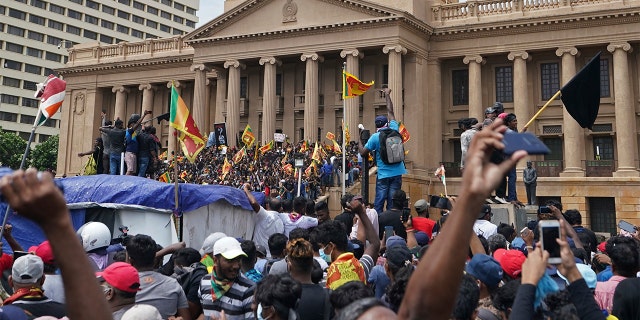 In addition, over the weekend, thousands of Sri Lankans broke into the private residence of the country's prime minister, forcing him and the country's president to resign. The protesters were reportedly unhappy with the ongoing economic downturn and fuel shortages.
Myron Abell, director of the Competitive Enterprise Institute's Center for Energy and Environment, noted that the Sri Lankan government has also banned chemical fertilizers that environmentalists blame for water pollution. Gotabaya Rajapaksa, the country's now deposed president, noted that such products have "resulted in adverse health and environmental effects" during a speech at a United Nations conference last year.
"Of course all crops are down, they don't have tea to sell because the tea crop is very low," Abell told Fox News Digital. "So, they don't have the income to buy goods abroad, and there is no own food production for the people in Sri Lanka. They are dying of hunger."
"This is all the result of the government's decision to restrict access to commercial fertilizers," he added. "There is a connection with the Dutch movement because it says that you should start using less."