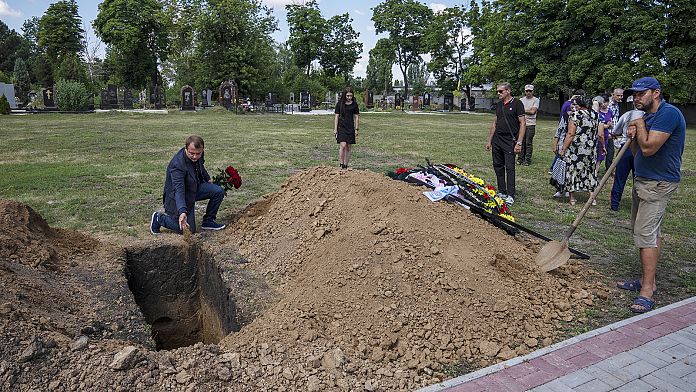 Russia is preparing for the next phase of its advance into Ukraine, a Ukrainian military spokesman said after the Kremlin said its forces would intensify their attacks in "all operational areas."
"These are not just missile strikes from the air and sea," Vadym Skibitsky, a spokesman for Ukrainian military intelligence, said on Saturday.
"We see shelling along the entire line of contact, along the entire front line. There is an active use of tactical aviation and attack helicopters.
"Indeed, there is a certain activation of the enemy along the entire front line … Obviously, preparations are underway for the next stage of the offensive," Skibitsky said.
The Ukrainian military said Russia appears to be regrouping units for an offensive against Sloviansk, a symbolically important city held by Ukraine in the eastern region of Donetsk.
The UK Ministry of Defense said on Sunday that Russia is strengthening its defensive positions in the occupied territories in southern Ukraine.
Reinforcements include the movement of manpower and equipment, defensive depots between Mariupol and Zaporozhye, and in Kherson, while Russian forces in Melitopol are also stepping up security, the ministry tweeted in a regular newsletter.
Authorities say Russian bombing intensifies in response to Ukrainian strikes
Ukrainian authorities have said at least 40 people have died in Russian shelling of urban areas over the past three days as the war, launched by Russian President Vladimir Putin on February 24, escalates.
On Friday night, rockets hit the city of Chuguev in the northeast of the Kharkiv region, killing three people, including a 70-year-old woman, and injuring three more, regional governor Oleg Sinegubov said.
"Three people died, why? For what? Because Putin has gone mad?" said Raisa Shapoval, 83, a distraught resident sitting on the ruins of her house.
Further south, more than 50 Russian Grad rockets fired at the city of Nikopol on the Dnieper River, killing two people who were found buried under rubble, Governor Valentin Reznichenko said.
Moscow said it used precision-guided weapons to destroy Ukraine's military infrastructure and protect its own security. He repeatedly denied targeting civilians.
However, strikes against civilian targets, such as the March explosion of the Mariupol theater that killed about 600 people who were hiding on the spot, and further attacks on railway stations and shopping centers, as well as atrocities in the Kiev suburb of Bucha, remained unnoticed by the Kremlin.
Recently, Ukrainian President Volodymyr Zelensky called for the creation of an international war crimes tribunal in The Hague in connection with the significant loss of life.
Russian Defense Minister Sergei Shoigu has ordered military units to step up operations to prevent Ukrainian strikes against eastern Ukraine and other Russian-held territories where he says Kyiv could target civilian infrastructure or residents, the ministry said in a statement.
His words appear to be a direct response to what Kyiv says is a series of successful strikes against 30 Russian logistics and munitions hubs, using several multiple launch rocket systems recently supplied by the West.
The strikes cripple Russian supply lines and significantly reduce Russia's offensive capability, a Ukrainian Defense Ministry spokesman said Friday.