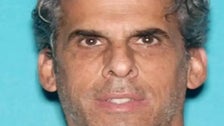 The co-executive producer of the hit TV show Clinic has been arrested on charges of "several" sexual harassment that took place between 2012 and 2019.
Eric Weinberg was arrested Thursday in Los Angeles by the Los Angeles Police Department. says in a press release which described him as "a suspect in serial sexual assault".
The press release said the longtime TV producer is suspected of "several sexual harassment, including rape." Police say Weinberg pretended to be a photographer and approached women in places like grocery stores and cafes. He then allegedly raped them at his home during an alleged photo shoot.
Police said the arrest was linked to attacks that took place between 2012 and 2019, but they believe there are "additional unidentified victims" as far back as the "early 1990s" and are urging anyone with information to report it.
HuffPost was unable to contact Weinberg representatives for comment.
"My friend pointed to the house and said, 'Look out. I personally know a lot of girls who were deliberately lured into this house and attacked, "a neighbor, whose name was not disclosed, told the news agency.
He co-executively produced about 100 episodes of the medical comedy-drama Clinic, which ran from 2001-2010. In addition, he was a supervising producer for 12 episodes and a writer for 11 episodes. also worked on numerous series, including "Veronica's Closet", "Valley of Death" and "Political Incorrectness".