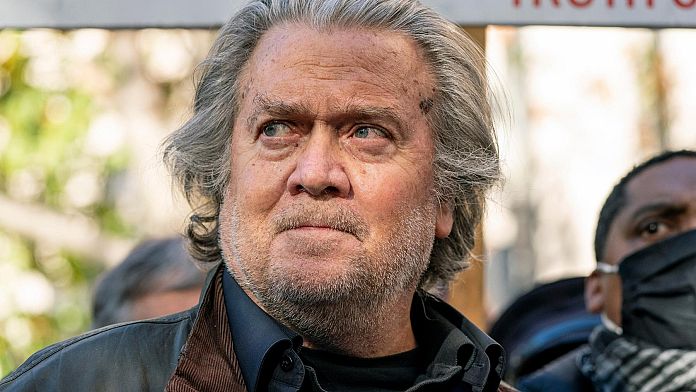 Jury selection is due to begin Monday in the case of Steve Bannon, a former senior adviser to former President Donald Trump.
Bannon faces criminal dismissal of congressional charges after refusing to cooperate for months with a House committee investigating the Jan. 6, 2021 U.S. Capitol riot.
In November, he was indicted on two counts of contempt of Congress, a month after the Justice Department received a congressional referral. Each count carries a minimum of 30 days in jail and a year behind bars.
The trial follows a surge in activity in the case since July 9. More than a week ago, the former White House strategist notified the committee that he was now ready to testify. His attorney, Robert Costello, said the change came about because Trump dropped his demand for executive privilege against testifying.
Bannon, 68, was one of the most prominent Trump supporters who refused to testify before the committee. He argued that his testimony was protected by Trump's claim of executive privilege.
Trump has repeatedly claimed executive privilege — even as a former president — in an attempt to block witness testimony and the release of White House documents. In January, the U.S. Supreme Court ruled against Trump's attempts to prevent the National Archives from cooperating with the committee after a lower court judge noted, in part, that "presidents are not kings."
The committee also noted that Trump fired Bannon from the White House in 2017, and thus Bannon was a private citizen when he consulted with the then president in the run-up to the riots.
Bannon's lawyers tried to get a stay of the trial after they said CNN's coverage of their client was biased. But the district court judge denied their request.
While the judge allowed the trial to move forward, he left open the possibility that Trump's waiver letters and Bannon's offer to cooperate with the committee could be mentioned in court, saying the information was "at least potentially relevant" to Bannon's defense. .
Lawyers expect Bannon to say that executive privilege prevented him from cooperating with the investigation earlier, but note that this is a difficult argument because Bannon refused to even respond to a subpoena to appear before the investigating committee.