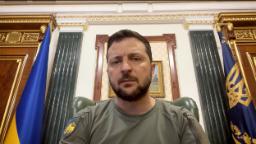 "Today I decided to dismiss the Prosecutor General and dismiss the head of the SBU," Zelensky said in his late-night video message.
The two dismissed officials are Prosecutor General Irina Venediktova and the head of the State Security Service (SBU) Ivan Bakanov, a longtime associate of the president.
Zelensky said that many officials in both departments are suspected of high treason.
"To date, 651 criminal proceedings have been registered on the facts of high treason and collaborationism of employees of the prosecutor's office, pre-trial investigation bodies and other law enforcement agencies," he said.
"In particular, more than 60 employees of the prosecutor's office and the SBU remained in the occupied territory and are working against our state."
Explaining his decision to remove Venediktova and Bakanov, Zelensky said: "Such an array of crimes against the foundations of the national security of the state and the links revealed between the employees of the security forces of Ukraine and the special services of Russia are very serious questions for the relevant leadership. Each of these questions will be answered appropriately."
According to him, the former head of the Main Directorate of the SBU in Crimea was also detained on suspicion of high treason.
"Everyone who, together with him, was part of a criminal group that acted in the interests of the Russian Federation, will also be held accountable. We are talking about the transfer of secret information to the enemy and other facts of cooperation with the Russian special services."
Zelenskiy indicated that there would be further action.
"Concrete actions and any inaction of each security and law enforcement official will be evaluated. The corresponding check of law enforcement agencies has already given the first results and will be continued."
Zelensky also said that the prime minister would be instructed to intensify the search for a new head of the National Anti-Corruption Bureau.